Ancient Egypt
Army and Soldiers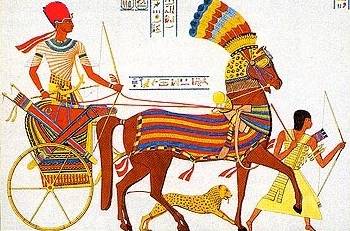 Back to Ancient Egypt for Kids

History

The original Egyptians were farmers, not fighters. They didn't see the need for an organized army. They were well protected by the natural boundaries of the desert that surrounded the empire. During the Old Kingdom, if the Pharaoh needed men to fight, he would call up the farmers to defend the country.

However, eventually the Hyksos people located near northern Egypt became organized. They conquered Lower Egypt using chariots and advanced weapons. The Egyptians knew they now needed an army. They learned how to make powerful chariots and gathered a strong army with infantry, archers, and charioteers. They eventually took Lower Egypt back from the Hyksos.

From that point Egypt began to maintain a standing army. During the New Kingdom the Pharaohs often led the army into battle and Egypt conquered much of the surrounding land, expanding the Egyptian Empire.

Weapons

Probably the most important weapon in the Egyptian army was the bow and arrow. The Egyptians used the composite bow that they learned about from the Hyksos. They could shoot arrows over 600 feet killing many enemies from long distance. The foot soldiers, also called the infantry, were armed with a variety of weapons including spears, axes, and short swords.

Chariots

Chariots were an important part of the Egyptian army. They were wheeled carriages pulled by two fast warhorses. Two soldiers rode in a chariot. One would drive the chariot and control the horses while the other would fight using a bow and arrow or spear.

Armor

The Egyptian soldiers seldom wore armor. Their main form of defense was a shield. When they did wear armor it was in the form of hardened leather straps.

Life as an Egyptian Soldier

Life as an Egyptian soldier was hard work. They trained to keep up their strength and endurance. They also trained on different types of weapons. If they were proficient with a bow, then they would become an archer.

The army was often used for tasks other than fighting. After all, if Pharaoh was going to feed all these men, he was going to get some use out of them during times of peace. The army worked the fields during planting and harvest time. They also worked as laborers on a lot of the construction such as palaces, temples, and pyramids.

Organization

The head of the Egyptian army was the Pharaoh. Under the Pharaoh were two generals, one who led the army in Upper Egypt and one who led the army in Lower Egypt. Each army had three major branches: the Infantry, the Chariotry, and the Navy. The generals were usually close relatives to the Pharaoh.

Fun Facts about the Army of Ancient Egypt
The soldiers of the Egyptian army were well respected. They received plunder from battles as well as a plot of land when they retired.
Sometimes young boys were signed up to be in the army as young as 5 years old. They didn't actually start fighting until they were 20 years old, however.
Army divisions were often named after gods.
The Egyptians often hired foreign mercenaries to fight for them, especially in battles that were away from the land of Egypt.


Take a ten question quiz at the Army of Ancient Egypt questions page.

More information on the civilization of Ancient Egypt:





Back to Ancient Egypt for Kids

Back to History for Kids