| | |
| --- | --- |
| Egypt | |
Capital: Cairo

Population: 83,688,164

Brief History of Egypt:
One of the oldest and longest lasting civilizations in world history was developed in Ancient Egypt. Starting in about 3100 BC, Menes became the first Pharaoh uniting all of Ancient Egypt under one rule. The Pharaohs ruled the land for thousands of years building great monuments, pyramids, and temples that still survive to this day. The height of Ancient Egypt was in the time of the New Empire from 1500 to 1000 BC.

In 525 BC the Persian Empire invaded Egypt taking over until the rise of Alexander the Great and the Greek Empire in 322 BC. Alexander moved the capital to Alexandria and put the Ptolemy dynasty in power. They would rule for around 300 years.

Arab forces invaded Egypt in 642. Arab Sultanates were in power for many years until the Ottoman Empire arrived in the 1500s. They would remain in power until its power started to wane in the 1800s. In 1805, Mohammed Ali became Pasha of the country and founded a new dynasty of rule. Ali and his heirs would rule until 1952. During this time the Suez Canal was completed as well as the building up of the modern city of Cairo. For some years between 1882 and 1922, the Ali dynasty was a puppet of the British Empire while the country was part of the British Empire.

On June 19, 1953 Egypt declared its independence from Britain. One of the main leaders, Abdel Nasser came into power. Nasser took control of the Suez Canal and became a leader in the Arab world. When he died Anwar Sadat was elected President. During these times Egypt and Israel had several wars. In 1978, Sadat signed the Camp David accords which led to a peace treaty between Egypt and Israel.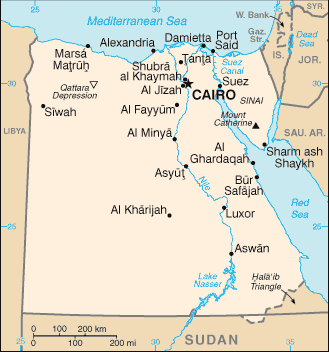 The Geography of Egypt
Total Size: 1,001,450 square km

Size Comparison: slightly more than three times the size of New Mexico

Geographical Coordinates: 27 00 N, 30 00 E

World Region or Continent: Africa

General Terrain: vast desert plateau interrupted by Nile valley and delta

Geographical Low Point: Qattara Depression -133 m

Geographical High Point: Mount Catherine 2,629 m

Climate: desert; hot, dry summers with moderate winters

Major cities: CAIRO (capital) 10.902 million; Alexandria 4.387 million (2009), Giza, Shubra_El-Kheima


The People of Egypt
Type of Government: republic

Languages Spoken: Arabic (official), English and French widely understood by educated classes

Independence: 28 February 1922 (from UK)

National Holiday: Revolution Day, 23 July (1952)

Nationality: Egyptian(s)

Religions: Muslim (mostly Sunni) 90%, Coptic 9%, other Christian 1%

National Symbol: golden eagle

National Anthem or Song: Bilady, Bilady, Bilady (My Homeland, My Homeland, My Homeland)


Economy of Egypt
Major Industries: textiles, food processing, tourism, chemicals, pharmaceuticals, hydrocarbons, construction, cement, metals, light manufactures

Agricultural Products: cotton, rice, corn, wheat, beans, fruits, vegetables; cattle, water buffalo, sheep, goats

Natural Resources: petroleum, natural gas, iron ore, phosphates, manganese, limestone, gypsum, talc, asbestos, lead, zinc

Major Exports: crude oil and petroleum products, cotton, textiles, metal products, chemicals

Major Imports: machinery and equipment, foodstuffs, chemicals, wood products, fuels

Currency: Egyptian pound (EGP)

National GDP: $519,000,000,000




** Source for population (2012 est.) and GDP (2011 est.) is CIA World Factbook.



Back to Geography Home Page

TD>
Kid's Poll
Vote for your favorite US President: