Back to Family Vacations
| | |
| --- | --- |
| New York City Review | |

Taking a family vacation in New York City can be a great adventure and blast for the kids. There is so much to see and do. We like to visit New York with the family because there is something for everyone; unique stores and shops, great sporting events, the best food in the world, Broadway shows, museums, history, and so much more.

New York, however, can be expensive. Plan ahead on what you want to do. Different times of the year can be cheaper on hotels and that can save you some of the costs. You won't be paying for the single big ticket item like theme park tickets, but Broadway shows, hotel rooms, sports tickets, etc. can all add up.

Here are some of our ideas and reviews on things to do with the family:

Statue of Liberty - Visit this beautiful statue with the family via ferry boat. You can see Ellis Island as well.

Shopping - Many unique and fun stores to go with the kids including FAO Schwarz, The Hershey's Store, and the American Girl Doll Store.

Empire State Building or 30 Rock Tower - The family will love the view of the city from the top of these skyscrapers.

Museums - Some of the best museums in the world are in New York City including the Metropolitan Museum of Art and the American Museum of Natural History.

Central Park - The family will enjoy this oasis in the middle of the city. There is lots to do here from going for a hike to visiting the zoo.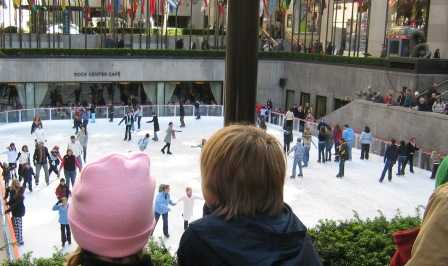 Other places in New York City - Of course there are too many places in this great city to list them all. Some other highlights include Times Square, Ground Zero, the Sony building, FDNY Fire Zone, and the Rockefeller Center.

Broadway Shows - There are almost always some Broadway shows playing that are good for the whole family. Lion King, one example, has been running for years. Some other examples at this writing include Mary Poppins and Spiderman.

Sports - New York Yankees, Mets, Giants, more….A great place to catch a game.

Where to stay with a family in New York City

We like to stay somewhere between Times Square and Central Park. This way you are within walking distance to a lot of the places you'll want to go.

How to get around in New York City

The best way to get around is to walk, but sometimes, especially with kids, it will be just too far. Taking a taxi is the easiest way and probably the best way to get to town from the airport. Once in town, you might want to try the subway. It's cheap and definitely part of the New York City adventure with the family!

Go here to learn about the history of the state of New York.

Other vacation ideas and reviews:
Washington DC
New York City
Myrtle Beach
Disney World
Niagara Falls
California
Copenhagen, Denmark
Atlanta
Eastern Virginia
Colonial Williamsburg
Jamestown Settlement



Back to Family Vacations