Back to New York City
Back to Family Vacations
| | |
| --- | --- |
| New York City Museums | |

When taking a family vacation to New York City, you can't miss out on the museums. Some of the best museums in the world can be found here. We've reviewed two of the most popular to visit with the family.

Metropolitan Museum of Art

Found near the middle of Central Park, this museum is one of the top art museums in the world. You will find art from many different eras and countries at the Met as well as art from some of the most famous artists throughout history including Monet, Rembrandt, Michelangelo, Leonardo da Vinci, Picasso, and Van Gogh.

There are specific programs for kids at the Met. One is called How Did They do That? These are 30 minute sessions that usually run in the afternoon where curators explain how ancient civilizations produced their art. The museum also has family maps and a kid's Q and A which you can download from their website before you go.

Hopefully your kids have been exposed to some of these artists or famous paintings in school. They will be much more interested, if that is the case. Kids will likely also enjoy other areas that are familiar to them from school. These exhibits could include Greek and Roman art, Egyptian art, and American paintings.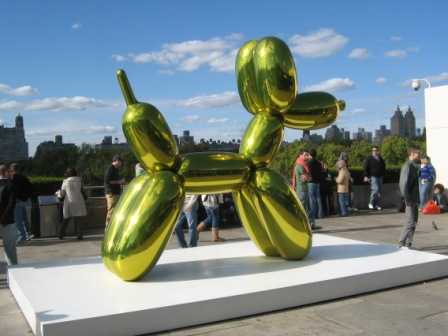 Be sure to check out the Roof Garden while you are there. The family will enjoy the large pieces of modern art usually on display there as well as the beautiful views of Central Park.

American Museum of Natural History

On the opposite side of Central Park from the Metropolitan Museum of Art and just across the street, you will find the American Museum of Natural History. This museum was already famous, but became even more popular when it was featured in the movie Night at the Museum.

This museum is huge. There are many wonderful exhibits here. The dioramas showing different animal habitats are amazing. Areas that we especially like for kids and family include:

Hall of Ocean Life - learn about ocean life and see the famous 94 foot long model of a blue whale hanging from the ceiling.

Hall of Meteorites - See the largest meteorite on display in the world (34 tons!).

Dinosaur Halls - See fossils and skeletons of actual dinosaurs including the fierce Tyrannosaurus Rex.

Mammal Halls - Beautiful dioramas of your favorite mammals in their habitats.

Rose Center and Planetarium - Kids will love seeing one of the shows of the night skies.

Other Museums

There are many, many more museums in New York City. Some that you may find interesting include the New York City Police Museum, the Museum of Modern Art, the American Indian Museum, and the New York City Fire Museum.

Other Places for families to visit in New York City:
Statue of Liberty
Shopping
Empire State Building and 30 Rock Tower
Central Park
Fun family sites in New York City



Other vacation ideas:
Washington DC
Myrtle Beach
Disney World
Niagara Falls
Copenhagen, Denmark
California

Back to Ducksters Home Page