Back to New York City
Back to Family Vacation Reviews
| | |
| --- | --- |
| Central Park | |

A trip to Central Park can be a fun part of a family vacation to New York City.

Central Park is a 2 ½ mile long, ½ mile wide park located in the middle of New York City just north of 59th street. It is the most visited park in the United States and is a National Historic Landmark. There is generally a lot to see and do in the park. We stumbled across all sorts of fun things as we walked around Central Park from castles to different types of playgrounds to street performers.

Things to do with the family in Central Park

Walk/Hike - Central park is a great place to escape the city and go for a walk. One place to walk is the Ramble where winding trails make it seem like your more in the country than in the middle of New York City.

Picnic - Another fun thing for the family is to take a picnic. There are plenty of great places to choose from all with great views. You could try looking over the Lake or watching people on the world famous Great Lawn.

Playgrounds - There are around 20 playgrounds in Central Park. A great place for the kids to burn off some energy.

Rent a Bike - Want to see more of Central Park without so much walking? Try renting a bike at the Bike and Roll NYC or the Central Park Boathouse.

Carousel - Take a ride on the famous Central Park carousel.

Alice in Wonderland Statue - There are lots of memorials, art, and statues throughout the park. This statue will probably be the kid's favorite.

Rent a Rowboat - You can rent a rowboat at the boathouse. This is only available during the summer months.

Swedish cottage - This cute little cottage tucked away in Central Park is home to the Parks Department's Traveling Marionette Theater. The family and young kids will love catching an expert puppet show put on by this group.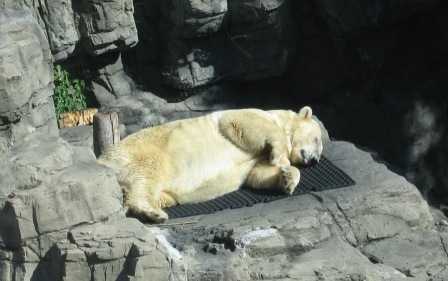 Central Park Zoo - Not too far off of 59th Street you'll find the Central Park Zoo. There are plenty of great animal exhibits here including the California Sea Lion, Polar Bear, Penguin, Snow Monkey, Red Panda, and Snow Leopard. There are daily schedules of animal feedings and demonstrations that can be interesting for the family.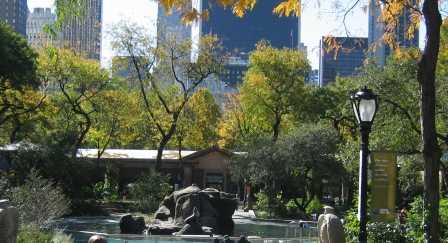 The Metropolitan Museum of Art is pretty much inside Central Park between 79th and 85th streets. The American Museum of Natural History is right across Central Park West Street at 79th street. Its' a lot of walking, but you can plan to visit the museums and the park the same day as they are all fairly close by.

Other Places for families to visit in New York City:
Statue of Liberty
Shopping
Empire State Building and 30 Rock Tower
New York City Museums
Fun family sites in New York City



Other vacation ideas:
Washington DC
Myrtle Beach
Disney World
Niagara Falls
Copenhagen, Denmark
California

Back to Ducksters Home Page