Back to New York City
Back to Family Vacations
| | |
| --- | --- |
| Statue of Liberty | |

When taking a family vacation to New York City, the Statue of Liberty is a must see. A symbol of our freedom and democracy, the Statue of Liberty was a gift from France.

The Statue of Liberty stands on Liberty Island in New York Harbor. It is nearby to Ellis Island and you can easily visit both sites in a single trip.

Liberty Island

Of course the main attraction at Liberty Island is the Statue itself. You get a close up look that you can't get from Manhattan. There also is a museum where you learn about the history, construction, and meaning of the statue. A museum store is on the island as well.

Junior Ranger Program

Kids can have fun doing the Junior Ranger program. They get a booklet they can fill out as they tour through the monument. When they have completed the booklet they can turn it in to a Park Ranger and get their Junior Ranger badge.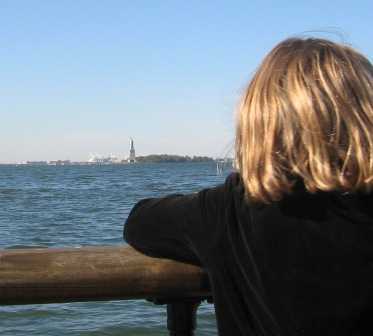 How to get to the Statue of Liberty

To get to the Statue of Liberty from New York you need to take a ferry. The ferry can be boarded from Battery Park which is at the "end" or southernmost part of Manhattan. You can take a taxi there or ride the subway. The ferry can take you to both Liberty Island and Ellis Island and then back to Battery Park. Riding the ferry can be half the fun for kids.

There is also a ferry that leaves from New Jersey.

Note: there will be security screens getting on the ferry and entering the islands. Just like at the airport.

How much does it cost?

You will need to buy ferry tickets, but getting into Ellis Island and the Statue of Liberty is free. It's recommended that you get reservations for tickets ahead of time, especially during the busy tourist season.

Ellis Island

Ellis Island is considered part of the Statue of Liberty National Monument. You can stop here as part of your visit and see the place where nearly 12 million immigrants entered into the United States.

Other Places for families to visit in New York City:
Shopping
Empire State Building and 30 Rock Tower
New York City Museums
Central Park
Fun family sites in New York City



Other vacation ideas:
Washington DC
Myrtle Beach
Disney World
Niagara Falls
Copenhagen, Denmark
California

Back to Ducksters Home Page