History
>>
US Geography
>>
US State History
Idaho
State History
Native Americans
People have lived in the land of Idaho for thousands of years. When the Europeans arrived there were two major Native American tribes in the region: the Nez Perce in the north and the Shoshone to the south. Both tribes lived similar lifestyles. For food they hunted animals such as deer and buffalo, fished the rivers, and planted corn and beans. They lived in
tepees
, which were easy to transport when they were following buffalo herds.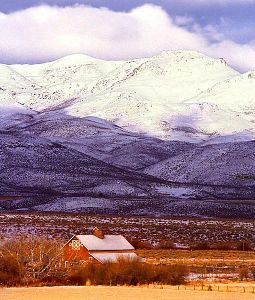 Owyhee Mountains, Idaho
from the USDA
Europeans Arrive
Because of its remote location, Idaho was one of the last of the lower 48 U.S. states to be visited by Europeans. In 1805, explorers
Lewis and Clark
entered Idaho on their way to the Pacific Ocean. They met with both the Shoshone and the Nez Perce peoples. Their guide was
Sacagawea
, a Shoshone Indian they had met in North Dakota. Soon after, fur traders moved into the area including Andrew Henry who built Fort Henry in 1810.
Early Settlers
Throughout the early 1800s more settlers came to Idaho. They included missionaries, fur traders, minors, and farmers. Many settlers traveled along the
Oregon Trail
which went through southern Idaho. Some settlers stopped along the way and made their home in Idaho. The first permanent settlement in Idaho was Franklin, which was established by the Mormons in 1860.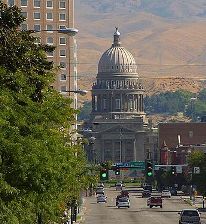 The State Capitol building in Boise,Idaho
by Jon Sullivan
Becoming a State
For many years, the region that included Idaho was claimed by both the United States and Britain. In 1846, the area officially became part of the United States through the Oregon Treaty with Britain. It joined the Oregon Territory in 1848. In 1853, Oregon became its own territory and Idaho became part of the Washington Territory. Idaho grew in population after gold was discovered in 1860 and, in 1863, became its own territory called Idaho Territory. It was many years later, on July 3, 1890, that Idaho joined the Union as the 43rd state.
Timeline
1805 - Lewis and Clark travel through Idaho on their way to the Pacific Ocean.
1810 - Fur trader Andrew Henry builds Fort Henry on the Snake River.
1836 - Missionaries Henry and Eliza Spalding set up a mission in Lapwai.
1840s - Settlers begin traveling on the Oregon Trail through Idaho.
1846 - Idaho becomes part of the United States through the Oregon Treaty.
1848 - Idaho becomes part of the Oregon Territory along with Oregon, Washington, and parts of Montana and Wyoming.
1853 - Idaho becomes part of the Washington Territory.
1860 - The first permanent settlement is established at Franklin.
1860 - Gold is discovered by Elias Pierce at Orofino Creek.
1863 - Idaho Territory is formed with Lewiston as the capital.
1864 - Boise becomes capital of Idaho Territory.
1877 - The Nez Perce led by Chief Joseph try to retreat from the U.S. army into Canada.
1892 - Miners' uprisings take place in the Coeur d'Alene region when union miners decide to go on strike.
1896 - Idaho becomes one of the first states to give women the right to vote.
More US State History:
Works Cited
History
>>
US Geography
>>
US State History