| | |
| --- | --- |
| Italy | |
Capital: Rome

Population: 61,261,254

Brief History of Italy:
The first advanced civilization to settle in the land of Italy was the Greeks in the 8th century BC. They set up colonies along the coast of southern Italy and on the island of Sicily. Later, the Phoenicians would do the same.

About the same time in the 8th century BC, a small agricultural community was forming on the west coast of Italy. It founded the city of Rome which would grow to become one of the world?s great civilizations, Ancient Rome. For more on Ancient Rome see Ancient Rome for Kids . Rome would first form the Roman Republic and later the Roman Empire. Its rule would span much of Europe and the Mediterranean. Rome, together with Greek culture, would become influential in forming much of today's western civilization including philosophy, art, and law. In 345 AD, the Roman Empire was divided into the Western Roman Empire and the Eastern Roman Empire. Italy was part of the Western Empire which collapsed around 500 AD. For the next several hundreds of years Italy would be made up of a number of small city-states.

In the 1400s Italy became the home of the Italian Renaissance. During this period the arts flourished with artists such as Leonardo da Vinci and Michelangelo.

In the 1800s much of Italy wanted to unify into a single country. In 1870 Italy became a constitutional monarchy and an independent unified country.

In 1922 Benito Mussolini came to power in Italy. He turned Italy into a fascist state where he was dictator. He sided with the Axis Powers of Germany and Japan in World War II. When they lost the war, Mussolini was removed from power. In 1946 Italy became a republic.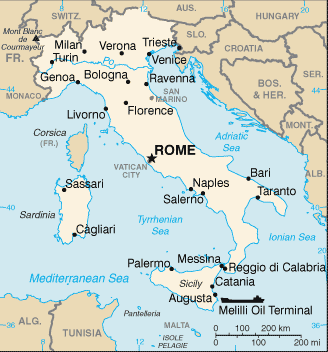 The Geography of Italy
Total Size: 301,230 square km

Size Comparison: slightly larger than Arizona

Geographical Coordinates: 42 50 N, 12 50 E

World Region or Continent: Europe

General Terrain: mostly rugged and mountainous; some plains, coastal lowlands

Geographical Low Point: Mediterranean Sea 0 m

Geographical High Point: Mont Blanc (Monte Bianco) de Courmayeur 4,748 m (a secondary peak of Mont Blanc)

Climate: predominantly Mediterranean; Alpine in far north; hot, dry in south

Major cities: ROME (capital) 3.357 million; Milan 2.962 million; Naples 2.27 million; Turin 1.662 million; Palermo 872,000 (2009), Genoa, Bologna, Florence


The People of Italy
Type of Government: republic

Languages Spoken: Italian (official), German (parts of Trentino-Alto Adige region are predominantly German speaking), French (small French-speaking minority in Valle d'Aosta region), Slovene (Slovene-speaking minority in the Trieste-Gorizia area)

Independence: 17 March 1861 (Kingdom of Italy proclaimed; Italy was not finally unified until 1870)

National Holiday: Republic Day, 2 June (1946)

Nationality: Italian(s)

Religions: approximately 90% Roman Catholic (about one-third regularly attend services); mature Protestant and Jewish communities and a growing Muslim immigrant community

National Symbol: white, five-pointed star (Stella d'Italia)

National Anthem or Song: Il Canto degli Italiani (The Song of the Italians)


Economy of Italy
Major Industries: tourism, machinery, iron and steel, chemicals, food processing, textiles, motor vehicles, clothing, footwear, ceramics

Agricultural Products: fruits, vegetables, grapes, potatoes, sugar beets, soybeans, grain, olives; beef, dairy products; fish

Natural Resources: coal, mercury, zinc, potash, marble, barite, asbestos, pumice, fluorospar, feldspar, pyrite (sulfur), natural gas and crude oil reserves, fish, arable land

Major Exports: engineering products, textiles and clothing, production machinery, motor vehicles, transport equipment, chemicals; food, beverages and tobacco; minerals, and nonferrous metals

Major Imports: engineering products, chemicals, transport equipment, energy products, minerals and nonferrous metals, textiles and clothing; food, beverages, and tobacco

Currency: euro (EUR)

National GDP: $1,847,000,000,000




** Source for population (2012 est.) and GDP (2011 est.) is CIA World Factbook.



Back to Geography Home Page

TD>
Kid's Poll
Vote for your favorite US President:
advertisement

advertisement