| | |
| --- | --- |
| Greece | |
Capital: Athens

Population: 10,767,827

Brief History of Greece:
Greece is a country steeped with ancient history and civilizations. As far back as 3000 BC the Cycladic civilization inhabited the area of Greece. Over time other civilizations would emerge. The city states of Ancient Greece such as Athens and Sparta created one of the most advanced ancient civilizations in history. Giving birth to many advanced concepts in government and philosophy that are still used today. In 323 BC, Alexander the Greatcame into power. He would unite the Greek peoples and conquer the Persian Empire. To learn more about Ancient Greece see Ancient Greece for kids.

Later Greece would be conquered by the Roman Empire and then become a part of the Byzantium Empire. Greek culture would have a significant influence into both Roman and Byzantium cultures. Greece would remain part of the Byzantium Empire until the coming of the Ottoman Empire in the 1400s.

The Greeks would break free of the Ottomans in 1829 after the Greek War for Independence. Throughout the rest of the 1800s and 1900s, Greece slowly added nearby islands to its territories. In World War II Greece was invaded by Italy and taken over by Germany. Greece joined NATO after Germany was defeated and the war ended. Greece is now a member of the European Union.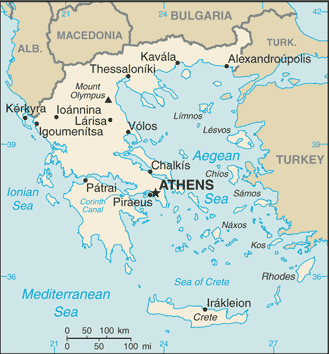 The Geography of Greece
Total Size: 131,940 square km

Size Comparison: slightly smaller than Alabama

Geographical Coordinates: 39 00 N, 22 00 E

World Region or Continent: Europe

General Terrain: mostly mountains with ranges extending into the sea as peninsulas or chains of islands

Geographical Low Point: Mediterranean Sea 0 m

Geographical High Point: Mount Olympus 2,917 m

Climate: temperate; mild, wet winters; hot, dry summers

Major cities: ATHENS (capital) 3.252 million; Thessaloniki 834,000 (2009), Patras


The People of Greece
Type of Government: parliamentary republic

Languages Spoken: Greek 99% (official), English, French

Independence: 1829 (from the Ottoman Empire)

National Holiday: Independence Day, 25 March (1821)

Nationality: Greek(s)

Religions: Greek Orthodox 98%, Muslim 1.3%, other 0.7%

National Symbol: Greek cross (white cross on blue field; arms equal length)

National Anthem or Song: Ymnos eis tin Eleftherian (Hymn to Liberty)


Economy of Greece
Major Industries: tourism, food and tobacco processing, textiles, chemicals, metal products; mining, petroleum

Agricultural Products: wheat, corn, barley, sugar beets, olives, tomatoes, wine, tobacco, potatoes; beef, dairy products

Natural Resources: lignite, petroleum, iron ore, bauxite, lead, zinc, nickel, magnesite, marble, salt, hydropower potential

Major Exports: food and beverages, manufactured goods, petroleum products, chemicals, textiles

Major Imports: machinery, transport equipment, fuels, chemicals

Currency: euro (EUR)

National GDP: $293,900,000,000




** Source for population (2012 est.) and GDP (2011 est.) is CIA World Factbook.



Back to Geography Home Page

TD>
Kid's Poll
Vote for your favorite US President: