Rick Riordan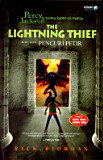 Back to
Biographies
Rick Riordan is the author of several popular book series' for kids. He is most known for the Percy Jackson and the Olympian series, but also for The 39 Clues and The Heroes of Olympus series.

Where did Rick Riordan grow up?

Rick was born on June 5, 1964 in San Antonio, Texas where he grew up and went to high school. As a kid Rick liked to read fantasy books and mythology. One of his favorite books was the Lord of the Rings. He also liked to write at a young age and even tried to get his first story published at the age of 13. He wasn't successful the first time, but he kept trying and all his hard work would pay off many years later.

In high school he continued to write and was the editor for his school's newspaper. He went to college at the University of Texas in Austin where he studied English and history. He later got his teaching certification and started teaching.

Where did he get the idea for the Percy Jackson series?

Rick had enjoyed teaching about mythology to his students for years. He also enjoyed mythology and fantasy books as a kid. When his son Haley was diagnosed with dyslexia and ADHD one of the few subjects that interested him was mythology. Rick made up the story of Percy Jackson and his adventures during story time to Haley at night. Haley said Rick should write a book about Percy and the rest is history.

List of kids books by Rick Riordan Percy Jackson and the Olympians
The Lightning Thief (2005)
The Sea of Monsters (2006)
The Titan's Curse (2007)
The Battle of the Labyrinth (2008)
The Last Olympian (2009)
The Heroes of Olympus
The Lost Hero (2010)
The Son of Neptune (2011)
The Kane Chronicles
The Red Pyramid (2010)
The Throne of Fire (2011)
The 39 Clues series
The Maze of Bones (2008)
The 39 Clues#Bonus Book: The Black Book of Buried Secrets - (2010)
Vespers Rising
Note: Rick also wrote the adult mystery series Tres Navarre not included here.
Fun Facts about Rick Riordan
The Kane Chronicles centers around Egyptian mythology versus Greek mythology in the Percy Jackson series.
He likes to play video games with his kids.
Rick has two sons, Haley and Patrick Riordan.
Over 20 million of his books are in print and growing.
His name is pronounced Ryer-dan.
Back to
Biographies
Other Kids Books author biographies: