New from Ducksters
eBooks!
Read our content on your eReader or mobile device with no ads.
Jerry Spinelli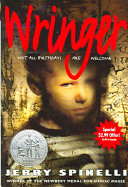 Back to Biographies

Jerry Spinelli is an author of Kids Books. He's written over 25 books, won a Newbery Award (Maniac Magee), and a Newbery Honor (Wringer).

Where did Jerry Spinelli grow up?

Jerry Spinelli was born on February 1, 1941 in Norristown, Pennsylvania. As a kid he wanted to be a cowboy, then as a teenager he wanted to be a baseball player. However, in high school a poem of his about football was published in the local newspaper. This made him start to think he wanted to be a writer.

He went to college to learn about being a writer. After college, he had several jobs while trying to write novels on the side. Over the next fifteen years, Spinelli wrote four novels that weren't published, until finally his fifth novel, Space Station Seventh Grade, was published as a children's book. It took Jerry a lot of work and many years to reach his goal, but now he has had over 25 books published and is a successful author. Also, as Jerry points out on his online biography, he's an accomplished grandfather and star-gazer.

List of kids and young adult books by Jerry Spinelli
Space Station Seventh Grade (1982)
Who Put That Hair in My Toothbrush? (1984)
Night of the Whale (1985)
Jason and Marceline (1986)
Maniac Magee (1990)
The Bathwater Gang (1990)
Dump Days (1991)
Fourth Grade Rats (1991)
Report to the Principal's Office (1991)
There's a Girl in My Hammerlock (1991)
Do the Funky Pickle (1992)
Who Ran My Underwear Up the Flagpole? (1992)
Picklemania (1993)
Crash (1996)
Tooter Pepperday (1996)
The Library Card (1997)
Wringer (1997)
Blue Ribbon Blues: A Tooter Tale (1998)
Knots in My Yo-Yo String (1998)
Stargirl (2000)
Loser (2002)
Milkweed: A Novel (2003)
My Daddy and Me (2006)
Love, Stargirl (2007)
Eggs (2007)
Smiles to Go (2008)
I Can Be Anything! (2010)
Fun Facts about Jerry Spinelli
Jerry's autobiography is called Knots in My Yo-Yo String.
Jerry has six kids and sixteen grandchildren.
Maniac Magee is often used as part of a classroom study in elementary schools.
The only Jerry Spinelli book made into a movie so far is Maniac Magee. It was on Nickelodeon and starred Michael Angarano (Sky High, Forbidden Kingdom).
He attended Gettysburg College and Johns Hopkins University.
His wife, Eileen, is also a writer of childrens books.
Jerry's favorite book as a kid was Babar the Elephant.


Back to Biographies

Other Kids Books author biographies: