Ancient Rome

Roman Army


Who were the soldiers?

The soldiers in the Roman Legionary were all Roman citizens. They signed up to fight for 20 years. At the end of the 20 years they were generally awarded land and/or a large sum of money. This way the army was made up of trained and experienced soldiers. It also put land in the hands of loyal soldiers.

There were also non-citizen soldiers called auxiliaries. They joined for 25 years and were awarded Roman citizenship at the end of the 25 years. Roman citizenship was a big deal and came with lots of privileges.

How was the Roman Army organized?

The army was divided up into Legions of around 5400 soldiers. Legions were led by a Legate who was usually a Senator or a Governor. Legions were made up of ten groups of soldiers called cohorts. Cohorts were then further divided into groups of 80 men called centuries. The officers, or leaders, of each century were called centurions.

Armor

The government knew the importance of the Roman army and provided them with good armor and weapons. Roman soldiers had armor made of strips of strong iron. The iron made the armor strong and the strips made it flexible. They also had iron helmets which protected their heads and neck, but still let them have good vision for fighting. All of this iron armor was heavy, so they needed to be strong and in good shape. They also carried tall shields in some cases.

Weapons


| | |
| --- | --- |
| The Roman soldiers used a variety of weapons including a pugio (dagger), gladius (sword, see picture to the right), hasta (spear), javelin, and bows and arrows. The soldiers were trained to fight with their weapons and practiced on a regular basis. They would sometimes spar with each other using wooden swords. | |
Fun Facts about the Roman Army
Officers, such as centurions, wore large crests on their helmets. This allowed the soldiers to see them better in battle.
The average legionary carried at least 90 pounds of weight and often had to march 20 miles a day.
At its largest, the Roman army was made up of 30 legions, or over 150,000 soldiers. Counting the auxiliary soldiers, some estimate there were well over 1 million soldiers in the Roman army.
Gaius Marius, Roman consul and general, is largely credited with transforming the Roman army into the powerful group that conquered much of the civilized world.
The Romans used catapults to throw huge rocks which could knock down walls. They also used large crossbows called ballistas to fire arrows that were more the size of spears.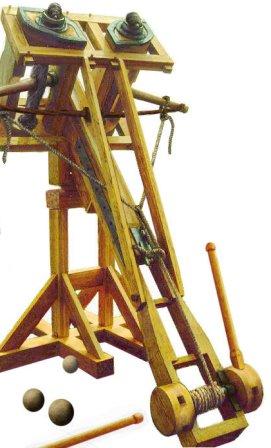 Roman Balista



Take a ten question quiz at the Ancient Roman Army questions page.

For more about Ancient Rome: