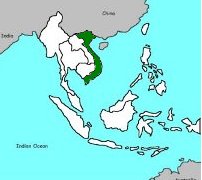 Geography
>>
Southeast Asia
>>
Vietnam History and Timeline
Vietnam
Capital:
Hanoi
Population:
91,519,289
The Geography of Vietnam
Borders:
China
,
Laos
,
Cambodia
, South China Sea
Total Size:
329,560 square km
Size Comparison:
slightly larger than New Mexico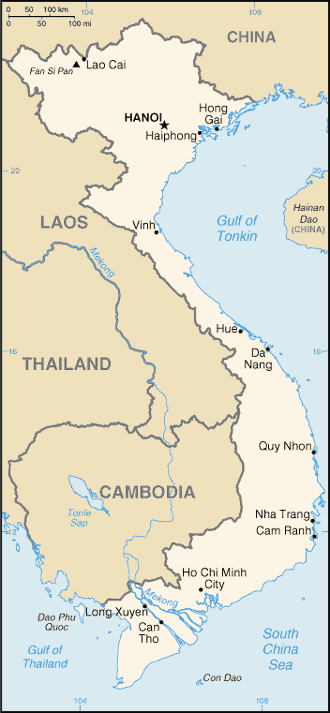 Geographical Coordinates:
16 00 N, 106 00 E
World Region or Continent:
Southeast Asia
General Terrain:
low, flat delta in south and north; central highlands; hilly, mountainous in far north and northwest
Geographical Low Point:
South China Sea 0 m
Geographical High Point:
Fan Si Pan 3,144 m
Climate:
tropical in south; monsoonal in north with hot, rainy season (May to September) and warm, dry season (October to March)
Major Cities:
Ho Chi Minh City 5.976 million; HANOI (capital) 2.668 million; Haiphong 1.941 million; Da Nang 807,000 (2009)
Major Landforms:
Annamite Mountain Range, Mekong Delta, Red River Delta, Central Highlands, Fansipan, Coastal lowlands
Major Bodies of Water:
Red River, Mekong River, Perfume River, Ba Be Lake, Dinh Binh Lake, Nui Coc Lake, West Lake, Ha Long Bay, Gulf of Tonking, Gulf of Thailand, South China Sea
Famous Places:
Ha Long Bay, Cu Chi Tunnels, Sa Pa Terraces, Phu Quoc Island, Hoan Kiem Lake, Thien Mu Pagoda, Nha Trang, My Son Sanctuary, Po Nagar, National Museum of Vietnamese History, Hoi An Ancient Town, Sand Dunes of Mui Ne, Phong Nha-Ke Bang National Park
Economy of Vietnam
Major Industries:
food processing, garments, shoes, machine-building; mining, coal, steel; cement, chemical fertilizer, glass, tires, oil, paper
Agricultural Products:
paddy rice, coffee, rubber, cotton, tea, pepper, soybeans, cashews, sugar cane, peanuts, bananas; poultry; fish, seafood
Natural Resources:
phosphates, coal, manganese, bauxite, chromate, offshore oil and gas deposits, forests, hydropower
Major Exports:
crude oil, marine products, rice, coffee, rubber, tea, garments, shoes
Major Imports:
machinery and equipment, petroleum products, fertilizer, steel products, raw cotton, grain, cement, motorcycles
Currency:
dong (VND)
National GDP:
$300,000,000,000
Government of Vietnam
Type of Government:
Communist state
Independence:
2 September 1945 (from France)
Divisions:
Vietnam is divided into 58 provinces and five municipalities. The largest of the provinces by population are Ho Chi Minh (city), Hanoi (city), and Thanh Hoa. The largest by area are Nghe An, Gia Lai, and Son La. You can see the names and locations for the rest of the provinces on the map.
National Anthem or Song:
Tien quan ca (The Song of the Marching Troops)
National Symbols:
Animal - Tiger, Water buffalo
Tree - Bamboo
Food - Rice
Motto - Independence, Freedom, Happiness
Colors - Red and yellow
Other symbols - Dragon, Emblem of Vietnam, Tortoise, Phoenix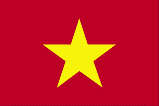 Description of flag:
The flag of Vietnam was adopted on September 5, 1945. Its name in Vietnamese translates to "Red flag with a gold star." As the name describes, the flag has a red background (field) with a large five-pointed gold star in the center.
National Holiday:
Independence Day, 2 September (1945)
Other Holidays:
New Year (January 1), Tet (Vietnamese New Year), Hung Kings, Liberation Day (April 30), International Workers' Day (May 1), National Vietnam Day (September 2), Ho Chi Minh's Birthday (May 19), August Revolution, National Defense Day
The People of Vietnam
Languages Spoken:
Vietnamese (official), English (increasingly favored as a second language), some French, Chinese, and Khmer; mountain area languages (Mon-Khmer and Malayo-Polynesian)
Nationality:
Vietnamese (singular and plural)
Religions:
Buddhist 9.3%, Catholic 6.7%, Hoa Hao 1.5%, Cao Dai 1.1%, Protestant 0.5%, Muslim 0.1%, none 80.8% (1999 census)
Origin of the name Vietnam:
The word "Viet" once referred to a group of peoples that lived in Vietnam a long time ago. Later, the term "Nam Viet" was used to describe the people living in southern Vietnam. Around the 16th century the word "Vietnam" began to be used to describe the region.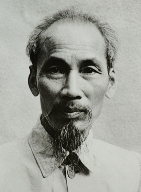 Ho Chi Minh
Famous People:
Ly Nam De - Founder of the Ly Dynasty
Cung Le - Boxer
Ho Chi Minh - World leader
Betty Nguyen - Journalist
Dustin Nguyen - Actor
Dat Phan - Comedian
Ngo Quyen - Founder of the Ngo Dynasty
Nguyen Trai - Poet and scholar
Thuy Trang - Actress
Truong Tan Sang - President of Vietnam
Trung Sisters - Revolutionaries and leaders
Geography
>>
Southeast Asia
>>
Vietnam History and Timeline
** Source for population (2012 est.) and GDP (2011 est.) is CIA World Factbook.