| | |
| --- | --- |
| Vietnam | |
Capital: Hanoi

Population: 91,519,289

Brief History of Vietnam:
Vietnam has a history of tribes uniting to form strong dynasties. The first dynasty that many consider to be the start of the Vietnamese state was the Hong Bang Dynasty which was ruled by the legendary Hung kings.

In 111 BC, the Han Dynasty from China absorbed Vietnam into their empire. Vietnam would remain a part of the Chinese empire for over 1000 years. It was in 938 AD that Ngo Quyen defeated the Chinese and gained independence for Vietnam. Vietnam was then ruled by a succession of dynasties including the Ly, Tran, and the Le dynasty. Under the Le dynasty the kingdom of Vietnam reached its peak, expanding to the south and conquering a portion of the Khmer Empire.

In 1858 the French came to Vietnam. They conquered the land in 1884. In 1887 the French incorporated Vietnam in to French Indochina. France continued to rule until it was defeated by communist forces led by Ho Chi Minh in 1954. The country became divided into Communist North Vietnam and the anti-Communist South. The Vietnam War raged for years between the two countries with the US supporting the South and communist countries supporting the north. The North eventually won uniting the country under communist rule in 1973.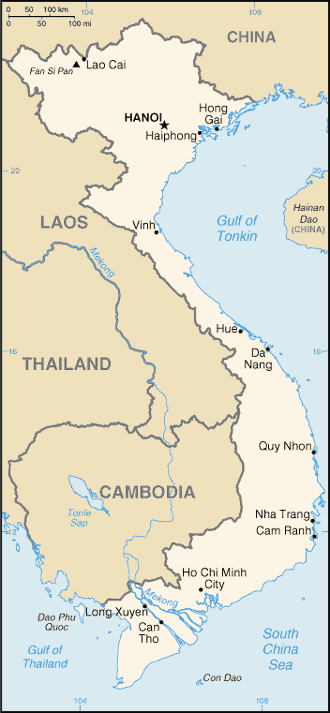 The Geography of Vietnam
Total Size: 329,560 square km

Size Comparison: slightly larger than New Mexico

Geographical Coordinates: 16 00 N, 106 00 E

World Region or Continent: Southeast Asia

General Terrain: low, flat delta in south and north; central highlands; hilly, mountainous in far north and northwest

Geographical Low Point: South China Sea 0 m

Geographical High Point: Fan Si Pan 3,144 m

Climate: tropical in south; monsoonal in north with hot, rainy season (May to September) and warm, dry season (October to March)

Major cities: Ho Chi Minh City 5.976 million; HANOI (capital) 2.668 million; Haiphong 1.941 million; Da Nang 807,000 (2009)


The People of Vietnam
Type of Government: Communist state

Languages Spoken: Vietnamese (official), English (increasingly favored as a second language), some French, Chinese, and Khmer; mountain area languages (Mon-Khmer and Malayo-Polynesian)

Independence: 2 September 1945 (from France)

National Holiday: Independence Day, 2 September (1945)

Nationality: Vietnamese (singular and plural)

Religions: Buddhist 9.3%, Catholic 6.7%, Hoa Hao 1.5%, Cao Dai 1.1%, Protestant 0.5%, Muslim 0.1%, none 80.8% (1999 census)

National Symbol: yellow, five-pointed star on red field

National Anthem or Song: Tien quan ca (The Song of the Marching Troops)


Economy of Vietnam
Major Industries: food processing, garments, shoes, machine-building; mining, coal, steel; cement, chemical fertilizer, glass, tires, oil, paper

Agricultural Products: paddy rice, coffee, rubber, cotton, tea, pepper, soybeans, cashews, sugar cane, peanuts, bananas; poultry; fish, seafood

Natural Resources: phosphates, coal, manganese, bauxite, chromate, offshore oil and gas deposits, forests, hydropower

Major Exports: crude oil, marine products, rice, coffee, rubber, tea, garments, shoes

Major Imports: machinery and equipment, petroleum products, fertilizer, steel products, raw cotton, grain, cement, motorcycles

Currency: dong (VND)

National GDP: $300,000,000,000




** Source for population (2012 est.) and GDP (2011 est.) is CIA World Factbook.



Back to Geography Home Page

TD>
Kid's Poll
Vote for your favorite US President:
advertisement

advertisement