| | |
| --- | --- |
| Germany | |
Capital: Berlin

Population: 81,305,856

Brief History of Germany:
The area that is now Germany was inhabited by Germanic speaking tribes for many centuries. They first became part of the Frankish Empire under the rule of Charlemagne, who is considered the father of the German monarchy. Much of Germany also became part of the Holy Roman Empire. From 1700 to 1918 the Kingdom of Prussia was established in Germany. In 1914 World War I broke out. Germany was on the losing side of the war and is estimated to have lost 2 million soldiers.

In the wake of WWI, Germany tried to recover. There was revolution and the monarchy collapsed. Soon a young leader named Adolf Hitler rose to power. He created the Nazi party which believed in the superiority of the German race. Hitler became dictator and decided to expand the German empire. He started WWII and at first conquered much of Europe including France. However, the United States, Britain and the Allies managed to defeat Hitler and Germany was divided into two countries; East Germany and West Germany.

East Germany was a communist state under control of the Soviet Union, while West Germany was a free market state. The Berlin Wall was built between the two countries to prevent people from escaping from East Germany to the West. It became a central point and focus of the Cold War. However, with the collapse of the Soviet Union and communism, the wall was torn down in 1989 and on October 3, 1990 Germany was reunited.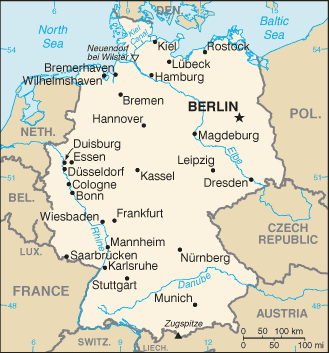 The Geography of Germany
Total Size: 357,021 square km

Size Comparison: slightly smaller than Montana

Geographical Coordinates: 51 00 N, 9 00 E

World Region or Continent: Europe

General Terrain: lowlands in north, uplands in center, Bavarian Alps in south

Geographical Low Point: Neuendorf bei Wilster -3.54 m

Geographical High Point: Zugspitze 2,963 m

Climate: temperate and marine; cool, cloudy, wet winters and summers; occasional warm mountain (foehn) wind

Major cities: BERLIN (capital) 3.438 million; Hamburg 1.786 million; Munich 1.349 million; Cologne 1.001 million (2009), Frankfurt, Stuttgart, Dusseldorf


The People of Germany
Type of Government: federal republic

Languages Spoken: German

Independence: 18 January 1871 (German Empire unification); divided into four zones of occupation (UK, US, USSR, and later, France) in 1945 following World War II; Federal Republic of Germany (FRG or West Germany) proclaimed 23 May 1949 and included the former UK, US, and French zones; German Democratic Republic (GDR or East Germany) proclaimed 7 October 1949 and included the former USSR zone; unification of West Germany and East Germany took place 3 October 1990; all four powers formally relinquished rights 15 March 1991

National Holiday: Unity Day, 3 October (1990)

Nationality: German(s)

Religions: Protestant 34%, Roman Catholic 34%, Muslim 3.7%, unaffiliated or other 28.3%

National Symbol: black eagle

National Anthem or Song: Lied der Deutschen (Song of the Germans)


Economy of Germany
Major Industries: among the world's largest and most technologically advanced producers of iron, steel, coal, cement, chemicals, machinery, vehicles, machine tools, electronics, food and beverages, shipbuilding, textiles

Agricultural Products: potatoes, wheat, barley, sugar beets, fruit, cabbages; cattle, pigs, poultry

Natural Resources: coal, lignite, natural gas, iron ore, copper, nickel, uranium, potash, salt, construction materials, timber, arable land

Major Exports: machinery, vehicles, chemicals, metals and manufactures, foodstuffs, textiles

Major Imports: machinery, vehicles, chemicals, foodstuffs, textiles, metals

Currency: euro (EUR)

National GDP: $3,114,000,000,000




** Source for population (2012 est.) and GDP (2011 est.) is CIA World Factbook.



Back to Geography Home Page

TD>
Kid's Poll
Vote for your favorite US President: