Abigail Breslin


Biography >> Movies for Kids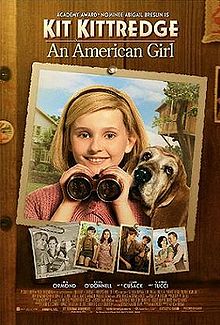 Occupation: Actress
Born: April 14, 1996 in New York City, NY
Best known for: Acting roles in Little Miss Sunshine, Kit Kittredge: An American Girl, and Nim's Island
Biography:



Abigail Breslin is an actress who at a young age has compiled an impressive list of roles and characters in major motion pictures. She was already an accomplished actress at the age of 6 when she was cast as Olive Hoover in Little Miss Sunshine. This role catapulted her to stardom as she gained critical acclaim for her performance and was nominated for an Academy Award. She has an amazing on screen presence and is certainly one of the most talented young actresses of our time.

Where did Abigail grow up?

Abigail was born and grew up in New York City. Her birthday is April 14, 1996. She grew up in a close family with two older brothers Spenser and Ryan.

How did Abigail get into acting?

Abigail's brothers also act and at a young age she wanted to be like her big brothers and become an actress. She got her first acting job at the age of three in a Toys R Us commercial. She soon made the quick leap to movies and got a major role in the 2002 thriller Signs. The movie Signs was a huge success and Abigail's talents were soon in demand. In 2004 she was in several movies including Raising Helen and The Princess Diaries 2: The Royal Engagement. She guest starred on Law and Order: SVU and NCIS that same year. In 2005 she was in the Hallmark Channel movie Family Plan.



It was in 2006 when Breslin's star really took off. She played a major role in the acclaimed movie Little Miss Sunshine. Her final scene in the movie is one of the most memorable in films. Both Abigail and the movie enjoyed critical success. The movie was nominated for the Academy Award for Best Picture and won for Best Screen Play. Abigail was nominated for Best Supporting Actress. The same year she acted in Santa Claus 3: The Escape Clause (with her brother Spenser) and had a voice part in Air Buddies.

She has proven time and time again that her success is not luck or a one hit wonder. In 2007 she starred in two major kids movies Nim's Island and Kit Kittredge: An American Girl. These were two very different movies and roles, however Abigail made both a success and was nominated for awards in both movies.

What movies has Abigail Breslin been in?


Signs (2002)
Raising Helen (2004)
The Princess Diaries 2: Royal Engagement (2004)
Keane (2004)
Chestnut: Hero of Central Park (2004)
Family Plan (2005)
Little Miss Sunshine (2006)
Imaginary Friend (2006)
The Ultimate Gift (2006)
The Santa Clause 3: The Escape Clause (2006)
Air Buddies (2006)
No Reservations (2007)
Definitely, Maybe (2008)
Nim's Island (2008)
Kit Kittredge: An American Girl (2008)
My Sister's Keeper (20090)
Zombieland (2009)
Quantum Quest: A Cassini Space Odyssey (2010)
Janie Jones (2010)
The Wild Bunch (2011)
Rango (2011)
New Year's Eve (2011)


Fun facts about Abigail Breslin


She was named after Abigail Adams, First Lady and wife of the second president John Adams.
She was in the Broadway show The Miracle Worker where she played Helen Keller.
Not only did Abigail play an American Girl character in Kit Kittredge, but she also collects American Girl Dolls as a hobby.
Her middle name is Kathleen.
Back to Biographies

Other Actors and Musicians biographies: