Taylor Swift

Back to Biographies

Taylor Swift is a pop and country music artist. She has won many Grammy Awards including Album of the Year for her record Fearless. She is one of the most popular musical artists in the world today.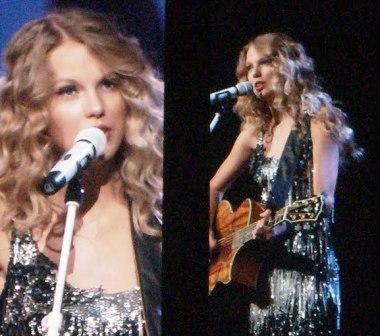 Where did Taylor Swift grow up?

Taylor Swift was born in Wyomissing, Pennsylvania on December 13, 1989. She loved to sing as a young girl and was singing karaoke locally at the age of 10. When she was eleven she sang the National Anthem at a Philadelphia 76ers game. She started learning guitar about that time. It was a computer repairman who taught her a few chords on the guitar when he was at her house helping to fix her parent's computer. From there Taylor practiced and practiced until she could write songs and play the guitar effortlessly.

Taylor also knew she wanted to be a singer/songwriter from the start. At the age of 11 she took a demo tape to Nashville, but was rejected by every record label in town. Taylor didn't give up, however, she knew what she wanted to do and wasn't going to take no for an answer.

How did Taylor get her first recording contract?

Taylor's parents knew she was talented and moved to Hendersonville, Tennessee so she would be close to Nashville. It took a few years of hard work, but in 2006 Taylor released her first single "Tim McGraw" and a self-title debut album. Both were very successful. The album reached number 1 on the Top Country Albums and was at the top of the charts for 24 out of the next 91 weeks.

Taylor's music career did not slow down. Her second album, Fearless, was even bigger than her first. It was the most downloaded country album in history at one time and had 7 songs in the top 100 at the same time. Three different songs from the album all had over 2 million paid downloads each. Taylor was now a superstar. The success of Fearless did not stop with commercial success and sales, the album also won many critical awards including Grammy Awards for Album of the Year, Best Country Album, Best Female Country Vocal (White Horse), and Best Country Song (White Horse).

Taylor's third album, Speak Now, sold over 1 million copies in the first week.

Taylor Swift Discography
Taylor Swift (2006)
Fearless (2008)
Speak Now (2010)
Fun Facts about Taylor Swift
She once dated Joe Jonas from the Jonas Brothers.
Taylor is known for her generosity. One of her favorite charities is the Red Cross. She also gave $500,000 in 2010 to help victims of flooding in Tennessee.
Her movie acting debut was in the romance Valentines Day.
Taylor will play the voice of Audrey in the 2012 movie The Lorax.
She was on the 2010 season of Dancing with the Stars.
Her lucky number is 13.
Swift's grandmother was an opera singer.
Her musical influences include Shania Twain, LeAnn Rimes, Dolly Parton, and her grandmother.
Back to Biographies

Other Actors and Musicians biographies: