Jonas Brothers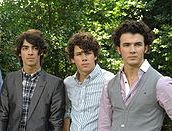 Back to Biographies

The Jonas Brothers are a pop band made up of - you guessed it - three brothers. They burst onto the music scene in 2007-2008. Although they had been around for a few years, their new self titled album, coupled with having Disney Channel showing their videos, helped them to gain a large fan base. Since then they have released several more successful albums, been in movies, and had their own TV show.

Three Brothers make up the band

Kevin Jonas - Kevin plays guitar in the band and provides backing vocals. Kevin was born November 5, 1987 in Teaneck, New Jersey. Kevin is the oldest brother.

Joe Jonas - Joe is lead singer in the band (together with Nick) and is the front man for their live shows. He was born August 15, 1989 in Case Grande, Arizona. Joe may be most famous for co-starring with Demi Lovato in Camp Rock.

Nick Jonas - Nick is lead singer and also plays piano, guitar, and drums in the band. Nick really got the band started. He was on Broadway at a young age and had some solo hits prior to the band getting started. He was born September 16, 1992 in Dallas, Texas.

Where did they grow up?

Although they were born in different states throughout the USA, the brothers mostly grew up in Wyckoff, New Jersey. They were homeschooled by their mom.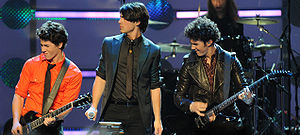 Have the Jonas Brothers been in any TV shows or movies?

The brothers first were on TV as guest stars on Hannah Montana. Then Disney Channel ran a documentary on the brothers while they were on tour called Jonas Brothers: Living the Dream. Next came Camp Rock where Joe had a major role while Nick and Kevin played minor roles. In Camp Rock 2 all three brothers played significant roles. They also made a movie of their concert performances and had their own comedy show on Disney Channel called Jonas (named Jonas LA in the 2nd season).

A List of the Jonas Brothers Albums
2006 It's About Time
2007 Jonas Brothers
2008 A Little Bit Longer
2009 Lines, Vines, and Trying Times
Fun Facts about the Jonas Brothers
Nick has performed in several Broadway plays.
Joe was once a guest judge on American Idol.
Nick has his own band called Nick Jonas and the Administration.
They were the youngest band to be on the cover of Rolling Stone Magazine.
The Brothers donate 10% of their earnings to charity. They have their own foundation called the Change for Children Foundation. Through the foundation they give to the American Diabetes Foundation, St. Jude's Children Hospital, and more.
They have been the musical guest on Saturday Night Live.
Back to Biographies

Other Actors and Musicians biographies: