Brenda Song
Biography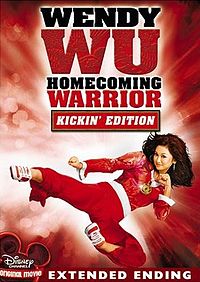 Occupation: Actress
Born: March 27, 1988 in Carmichael, California
Best known for: London Tipton on the Suite Life Series
Biography:



Brenda Song is an actress best known for her role as London Tipton on the Disney Channel TV kid's sitcoms Suite Life of Zack and Cody and Suite Life on Deck.

Where did Brenda grow up?

Brenda Song was born on March 27, 1988 in Carmichael, California. She lived there until she was six years old when she moved to Los Angeles in order to become an actress.

How did Brenda Song get into acting?

Brenda says she knew she wanted to be an actress since she was a small kid. Her mother had faith in her and moved to Los Angeles when Brenda was six years old to help her get her acting career started. Her first acting job was in a commercial for Little Caesar's Pizza.

Brenda had various roles in both movie and TV over the next several years. In 2004 she got the role of Tia on Disney Channel's Phil of the Future. She was in seven episodes. She did such a great job that when the role for London Tipton came up a year later on Suite Life of Zack and Cody, she didn't even have to Audition for it.



Brenda has had great success as London Tipton on the Suite Life sitcoms. She has been a major part of their success since 2005. She says she's been on the show so long she considers Dylan and Cole Sprouse to be like brothers.

Other projects that Brenda has been a part of include multiple Disney Channel movies such as Wendy Wu: Homecoming Warrior which she starred in and co-produced as well as the 2011 Suite Life Movie. She starred in the 2008 Disney movie College Road Trip with Martin Lawrence and Raven-Symone. In 2010 she had a main role in the major motion picture The Social Network.

Fun Facts about Brenda Song
Brenda is a huge Los Angeles Lakers fan and has a secret (or not so secret) celebrity crush on Kobe Bryant.
Brenda likes being a role model for kids and says she doesn't drink or smoke.
She says she likes all the Disney characters she's portrayed and doesn't have a single favorite.
Her favorite food is sushi and her favorite place to go on vacation is Costa Rica.
Brenda Song had a guest appearance on Phineas and Ferb as the voice of Wendy.
Cosmogirl Magazine called Brenda the Queen of Disney in 2006.


Back to Biographies

Other Actors and Musicians biographies: