| | |
| --- | --- |
| American Girl Dolls | |
Back to Hobbies

American Girl Dolls - Celebrating Girls and all that they Can Be

American Girl dolls were first introduced in 1986 as a line of high quality 18" dolls that were meant to encourage and celebrate being an American Girl. The dolls popularity grew and so did the product line to include; books, movies, DVD's, accessories, clothes for girls and dolls. The themes and stories of the American Girl dolls help girls understand what it was like growing up in a different era and to now celebrating who they are as individuals today.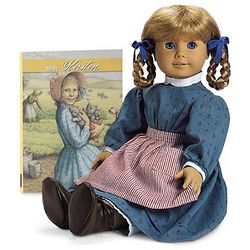 To show the rising popularity of the American Girl Brand, here are some fun facts:
127 million: The number of American Girl® books that have been sold since 1986
52 million: visits per year to the American Girl Web site, americangirl.com
28 million: visits to American Girl experiential retail stores, each featuring boutiques, dining, and unique entertainment
16 million: the number of American Girl dolls that have been sold since 1986 through our retail stores, Web site, and catalogue, which ranks among the top 25 consumer catalogues in the country
2.8 million: the number of copies of American Girl's The Care & Keeping of You: The Body Book for Girls has sold since its publication in 1998
600,000: the circulation for American Girl® magazine, making it the nation's eighth-largest children's magazine, and the largest publication dedicated exclusively to girls ages 8 and up
6,000: pieces of mail American Girl magazine receives after each issue
For more on American Girl Dolls, see the following links:

The History of American Girl Dolls

The Historical Dolls

The Just Like Me Dolls and Bitty Baby Dolls

The Girl of the Year Dolls

American Girl Magazine and American Girl Books

American Girl Retail Stores

Back to Hobbies