Music for Kids

Brass Instruments
A major family of instruments is the brass instrument family. It includes the trumpet, tuba, trombone, French horn, bugle, and cornet, just to name a few. Most brass instruments are made out of, you guessed it brass! They are used in all sorts of music making a brilliant and, often, loud sound.
What makes an instrument part of the brass family?
The main difference between brass instruments and other instruments is how the vibration to create the sound and notes is made. With a brass instrument the vibration is created by the lips of the musician. By pressing the lips up against the mouthpiece and blowing, a vibration is created. The rest of the horn helps to amplify the noise and create different notes. This is different from the woodwind family where air blowing across an edge or reed causes the vibrations.
Types of Music
Brass instruments are used in all sorts of music. Some of the most popular type of brass music is played in big bands, classical orchestras, and jazz. One of the main places we see brass instruments played today is in marching bands. This is because brass instruments can be played loudly without electrical amplification. Plus they can be played and carried while marching.
Smaller groups of brass instruments may be used in rock music, mariachi bands, and smaller ensembles. These generally use instruments like the trumpet, trombone, and saxophone (which is really a woodwind).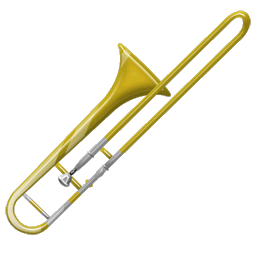 The Trombone is a popular brass instrument