Kids Movies
Epic
MPAA Rating:
PG (for mild action, some scary images and brief rude language)
Director:
Chris Wedge
Release Date:
May 24, 2013
Movie Studio:
Blue Sky Studios and 20th Century Fox Animation
Cast:
Amanda Seyfried as Mary Katherine
Josh Hutcherson as Nod, a Leafman
Colin Farrell as Ronin, a veteran Leafman fighter
Beyoncé Knowles as Queen Tara
Christoph Waltz as Mandrake
Aziz Ansari as Mub the slug
Pitbull as Bufo
Jason Sudeikis as Professor Bomba, Mary Katherine's father
Steven Tyler as Nim Galuu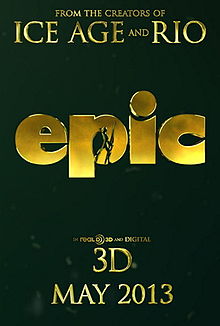 About the movie:
Epic the movie is loosely based on the book by William Joyce, The Leaf Men and the Brave Good Bugs. A lot of the characters are the same, but the plot was changed up so that there would be more action and adventure. In the story a young girl named Mary Katherine finds herself transported to a different world. In this world animals can talk and plants are alive. She finds that there is a battle raging between good and evil.
Epic is directed by Chris Wedge of Ice Age and Robots fame. It is an animated film that has been compared to a kid's version of Avatar. A lot of musicians lend their voices to the film including Beyonce, Pitbull, and Steven Tyler from Aerosmith.
Watch the Movie Trailer
We are sorry, the trailer has been removed.
Back to Movies for Kids