| | |
| --- | --- |
| Spain | |
Capital: Madrid

Population: 47,042,984

Brief History of Spain:
Spain is located in Southwest Europe on the eastern Iberian Peninsula which it shares with Portugal.

The Iberian Peninsula has been occupied by many empires over the centuries. The Phoenicians arrived in the 9th century BC, followed by the Greeks, Carthaginians, and the Romans. The Roman Empire would have a lasting impact on Spain's culture. Later, the Visigoths arrived and drove out the Romans. In 711 the Moors came across the Mediterranean Sea from North Africa and conquered most of Spain. They would remain there for hundreds of years until the Europeans would retake Spain as part of the Reconquista.

In the 1500s, during the Age of Exploration, Spain became the most powerful country in Europe and likely the world. This was due to their colonies in the Americas and the gold and great wealth they acquired from them. Spanish conquistadors such as Hernan Cortes and Francisco Pizarro conquered much of the Americas and claimed them for Spain. However, in 1588 in a battle of the world's great navies, the British defeated the Spanish Armada. This started the decline of the Spanish Empire.

In the 1800s many of Spain's colonies started revolutions to separate from Spain. Spain was fighting too many wars and losing most of them. When Spain lost the Spanish-American war against the United States in 1898, they lost many of their primary colonies.

In 1936, Spain had a civil war. The nationalist forces won and General Francisco Franco became leader and ruled until 1975. Spain managed to remain neutral during World War II, but somewhat sided with Germany, making things difficult after the war. Since the death of the dictator Franco, Spain has moved toward reforms and improving its economy. Spain became a member of the European Union in 1986.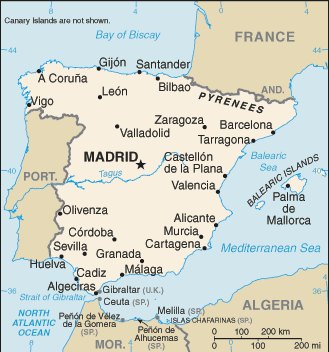 The Geography of Spain
Total Size: 504,782 square km

Size Comparison: slightly more than twice the size of Oregon

Geographical Coordinates: 40 00 N, 4 00 W

World Region or Continent: Europe

General Terrain: large, flat to dissected plateau surrounded by rugged hills; Pyrenees in north

Geographical Low Point: Atlantic Ocean 0 m

Geographical High Point: Pico de Teide (Tenerife) on Canary Islands 3,718 m

Climate: temperate; clear, hot summers in interior, more moderate and cloudy along coast; cloudy, cold winters in interior, partly cloudy and cool along coast

Major cities: MADRID (capital) 5.762 million; Barcelona 5.029 million; Valencia 812,000 (2009), Seville, Zaragoza, Malaga


The People of Spain
Type of Government: parliamentary monarchy

Languages Spoken: Castilian Spanish 74%, Catalan 17%, Galician 7%, Basque 2%; note - Castilian is the official language nationwide; the other languages are official regionally

Independence: the Iberian peninsula was characterized by a variety of independent kingdoms prior to the Muslim occupation that began in the early 8th century AD and lasted nearly seven centuries; the small Christian redoubts of the north began the reconquest almost immediately, culminating in the seizure of Granada in 1492; this event completed the unification of several kingdoms and is traditionally considered the forging of present-day Spain

National Holiday: National Day, 12 October

Nationality: Spaniard(s)

Religions: Roman Catholic 94%, other 6%

National Symbol: Pillars of Hercules

National Anthem or Song: Himno Nacional Espanol (National Anthem of Spain)


Economy of Spain
Major Industries: textiles and apparel (including footwear), food and beverages, metals and metal manufactures, chemicals, shipbuilding, automobiles, machine tools, tourism, clay and refractory products, footwear, pharmaceuticals, medical equipment

Agricultural Products: grain, vegetables, olives, wine grapes, sugar beets, citrus; beef, pork, poultry, dairy products; fish

Natural Resources: coal, lignite, iron ore, copper, lead, zinc, uranium, tungsten, mercury, pyrites, magnesite, fluorspar, gypsum, sepiolite, kaolin, potash, hydropower, arable land

Major Exports: machinery, motor vehicles; foodstuffs, pharmaceuticals, medicines, other consumer goods

Major Imports: machinery and equipment, fuels, chemicals, semifinished goods, foodstuffs, consumer goods, measuring and medical control instruments

Currency: euro (EUR)

National GDP: $1,406,000,000,000




** Source for population (2012 est.) and GDP (2011 est.) is CIA World Factbook.



Back to Geography Home Page

TD>
Kid's Poll
Vote for your favorite US President: