| | |
| --- | --- |
| Ireland | |
Capital: Dublin

Population: 4,722,028

Brief History of Ireland:
The Irish people are mainly of Celtic origin. The Celts arrived in the 4th century BC. They invaded Ireland along with Great Britain and other areas of Europe. In 432 AD St. Patrick arrived on the island and began to work to convert the locals to Christianity. Monasteries formed where Irish scholars studied Latin and Greek as well as developed the arts of manuscript, metalworking, and sculpture. The isolation of the monasteries helped keep this knowledge alive during the Dark Ages.

Starting in the 9th century, the Vikings regularly invaded and pillaged Ireland. They would do this for nearly 200 years. In the 12th century the Normans invaded and conquered the land.

Ireland became part of the United Kingdom in 1800 with the signing of the Act of Union. In 1846 Ireland was hit with a great famine. The potato crop failed and millions died of starvation. Millions more left the country and many Irish emigrated to the United States.

In the late 1800s and early 1900s the Irish began to want their independence from the United Kingdom. The Sinn Fein, which means ?Ourselves Alone? became a political movement for freedom. From 1919-1921 Ireland and England went to war. At the end of the war the Irish Free State was formed. Ireland was divided into Ireland, which was an independent country, and Northern Ireland, which was still a part of the UK.

Today in Ireland, English is the common language, but Irish, Gaelic, is also an official language and is taught in schools.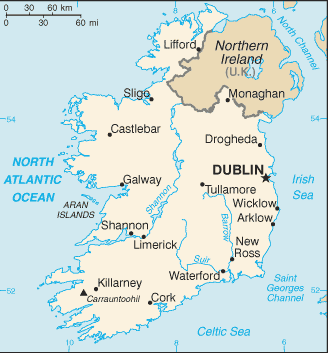 The Geography of Ireland
Total Size: 70,280 square km

Size Comparison: slightly larger than West Virginia

Geographical Coordinates: 53 00 N, 8 00 W

World Region or Continent: Europe

General Terrain: mostly level to rolling interior plain surrounded by rugged hills and low mountains; sea cliffs on west coast

Geographical Low Point: Atlantic Ocean 0 m

Geographical High Point: Carrauntoohil 1,041 m

Climate: temperate maritime; modified by North Atlantic Current; mild winters, cool summers; consistently humid; overcast about half the time

Major cities: DUBLIN (capital) 1.084 million (2009), Belfast, Cork


The People of Ireland
Type of Government: republic, parliamentary democracy

Languages Spoken: English (official) is the language generally used, Irish (official) (Gaelic or Gaeilge) spoken mainly in areas located along the western seaboard

Independence: 6 December 1921 (from UK by treaty)

National Holiday: Saint Patrick's Day, 17 March

Nationality: Irishman(men), Irishwoman(women), Irish (collective plural)

Religions: Roman Catholic 88.4%, Church of Ireland 3%, other Christian 1.6%, other 1.5%, unspecified 2%, none 3.5% (2002 census)

National Symbol: harp

National Anthem or Song: Amhran na bhFiann (The Soldier's Song)


Economy of Ireland
Major Industries: steel, lead, zinc, silver, aluminum, barite, and gypsum mining processing; food products, brewing, textiles, clothing; chemicals, pharmaceuticals; machinery, rail transportation equipment, passenger and commercial vehicles, ship construction and refurbishment; glass and crystal; software, tourism

Agricultural Products: turnips, barley, potatoes, sugar beets, wheat; beef, dairy products

Natural Resources: natural gas, peat, copper, lead, zinc, silver, barite, gypsum, limestone, dolomite

Major Exports: machinery and equipment, computers, chemicals, pharmaceuticals; live animals, animal products

Major Imports: data processing equipment, other machinery and equipment, chemicals, petroleum and petroleum products, textiles, clothing

Currency: euro (EUR)

National GDP: $187,100,000,000




** Source for population (2012 est.) and GDP (2011 est.) is CIA World Factbook.



Back to Geography Home Page

TD>
Kid's Poll
Vote for your favorite US President: