| | |
| --- | --- |
| Dora the Explorer | |
Dora the Explorer is an animated TV show for young kids shown on the Nickelodeon channel. It's a very popular show that follows the adventures of seven year old Dora Marquez. It has been running since August of 2000.

Story

In each episode Dora embarks on a trip to go exploring. She always has a goal which generally involves finding something or helping someone. Along the way she uses her map and asks the viewers to help her on her trip. While traveling, Dora will meet up with her friends, including Boots, her best friend. She'll also run into Swiper, who will try to steal one of Dora's items. If Swiper is successful, then Dora and Boots will have to find the item later. Dora always says "Swiper no Swiping" to Swiper to try and get him not to take her things. While traveling, Dora will ask the viewers for advice on how to move along or pass the next obstacle. She'll also teach them a short Spanish word or phrase.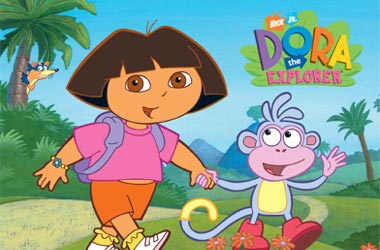 At the end of the show, Dora and the characters sing the song "We did it". Kid's can have fun singing along, because they helped too. Then Dora will ask the children what their favorite part of the adventure was and will share with them her favorite part.

Characters
Dora Marquez - Dora is a 7-year old Latina girl. She is the main character and star of the show. She is very kind and never gets angry, even at Swiper who tries to steal her stuff. Dora tries to get all her friends and even children watching the show involved in her adventures. Dora likes sports, her best friend Boots, exploring the world, and her family.
Boots - Boots is a monkey and is Dora's best friend. He gets his name from the red boots he wears. Boots always helps Dora along with her adventure.
Swiper - Swiper is a fox who spends the show trying to steal Dora's stuff. If Dora can repeat "Swiper no swiping" three times before Swiper steals something then he stops trying and leaves. Swiper wears a blue mask and gloves.
Map - The map Dora uses to help her find her way can talk and help her find her route. When not being used, the map is in the Backpack. He introduces himself by singing "I'm the Map".
Backpack - The Backpack holds all sorts of cool stuff for Dora to use on her adventures. Like the map the Backpack and talk and sings a short song when he is introduced on the show.
Fiesta Trio - The Fiesta Trio sings a song of celebration whenever Dora completes a task. They are a grasshopper, a snail, and a frog.
Isa - Isa is an Iguana and is one of Dora's friends. She is a good problem solver and a gardener.
Benny - Benny is a blue bull and a friend of Dora's. He lives in a barn and likes to ride in a hot air balloon.
Tico - Tico is a purple squirrel who helps Dora to teach the viewers words and phrases in Spanish. Tico likes to drive a small yellow car.
Fun Facts about Dora the Explorer
Go! Diego, Go! is a spin-off of the show featuring Dora's cousin Diego.
The show became the number one ranked preschool show almost immediately after it premiered.
Although Dora teaches Spanish in many English speaking countries, she teaches English in most countries throughout the world.
The first Spanish word taught on the show was azul, which is the color blue.
Dora the Explorer was created by Chris Gifford, Valerie Walsh Valdes, and Eric Weiner.
Dora and Boots became best friends when Dora saved his red boots from being stolen by Swiper.
Other kids TV shows to check out:
Back to Kids Fun and TV Page
Back to Ducksters Home Page