| | |
| --- | --- |
| ANT Farm | |
A.N.T. Farm is a Disney Channel television show for kids. It tells the story of middle school kids who attend high school as part of the Advanced Natural Talents (ANT) program. The pilot episode premiered on May 6, 2011.

Storyline

ANT Farm tells the story of three gifted middle school students (Chyna, Olivia, and Fletcher) who join the Advanced Natural Talents (ANT) gifted program. As part of the program they move up to high school early. This is a scary adventure for them, but they manage to survive by sticking together. Chyna's older brother Cameron goes to the high school and isn't too sure about his younger middle school sister being there. There also is their main nemesis, Alexis Reed, who's envious of Chyna's talents.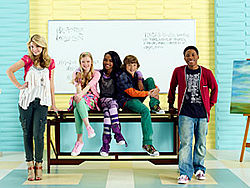 ANT Farm Characters
Chyna Parks (China Anne McClain) - Chyna is an eleven year old girl who is multi-talented in music. She can play most any instrument and has a great singing voice. Chyna isn't intimidated by high school and tries to help her friends as they get used to their new surroundings and the older kids.
Olivia Doyle (Sierra McCormick) - Olive is Chyna's best friend. She's in the ANT farm because she's a genius and never forgets anything.
Fletcher Quimby (Jake Short) - Fletcher is an artistic genius. He also has a crush on Chyna.
Cameron Parks (Carlon Jeffery) - Cameron is Chyna's big brother. He isn't particularly talented in anything like his sister. He's also not sure he wants his little middle school teacher hanging out at his high school.
Alexis Reed (Stefanie Scott) - Lexi is the popular girl at the high school. She doesn't like it that Chyna has shown up and stolen some of her thunder, particularly when it comes to the school plays. She sees Chyna as her rival.
Fun Facts about ANT Farm
The ANT Farm takes place at Webster High School.
Chyna and Cameron's dad is a police officer.
China McClain was in the movie Daddy's Little Girls. She also guest starred on Wizard's of Waverly Place as the guardian angel wannabe Tina.
The show was created by Dan Signer who also worked on the Disney Channel TV show Suite Life on Deck.
Sierra McCormick guest starred on both Hannah Montana and Are You Smarter than a 5th Grader.
Other kids TV shows to check out:
Back to Kids Fun and TV Page
Back to Ducksters Home Page