Back to Washington DC
Back to Family Vacations
| | |
| --- | --- |
| National Mall and Memorial Parks | |

Located in downtown Washington DC, the National Mall and Memorial parks are a great place to visit with the family. They are part of the national parks system and include a 2 mile stretch of land from the United States Capital to the Lincoln Memorial. Along this narrow stretch of land are many famous memorials, museums, and government buildings.

What to do at the National Mall

There are so many things to do and see at the National Mall. We will list some of our favorites for family vacations here:

Capitol Building - Located at the east end of the National Mall, the US Capitol Building is a site to behold. One of the most famous buildings in the world.

Air and Space Museum - A great place to take the family, this museum has both the history and the future of flight. A lot of interactive things to do make this a fun stop.

Museum of Natural History - The most visited museum in Washington DC.

Museum of American History - See some great pieces right out of the history books. From the original Star Spangles Banner flag to Richard Petty's race car, there is something for everyone here.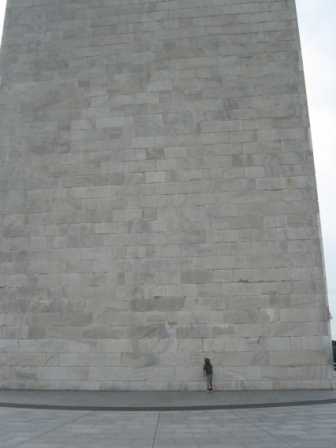 Washington Monument - A towering memorial to President George Washington that is the center of the National Mall. Be sure to get tickets to take an elevator to the top and get a beautiful 360 degree view of Washington DC.

World War II Memorial - Beautiful new memorial right in front of the reflecting pool.

Lincoln Memorial - See the famous statue of President Abraham Lincoln, one of our greatest leaders.

White House - Not part of the mall, but just north of the Washington Monument you can see the Presidents famous residence.

Jefferson Memorial - At the southwest of the mall you can see this memorial to President Thomas Jefferson, author of the Declaration of Independence, across the Tidal Basin.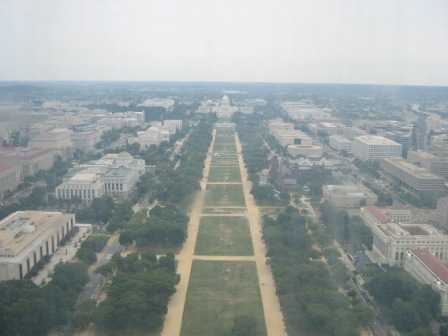 How to get around the National Mall

Walk - We think this is the best way to view the Mall. If you are healthy and want to get some exercise, you can walk. There is a lot of walking to do, however, especially if you plan to walk the mall and view the museums and memorials. You will want to take breaks and maybe take a couple of days (at least) if you plan to walk. To give you an idea of the distance, it is 2 miles from the Capitol building to the Lincoln Memorial.

Tour Bus - there are tour busses that will take you from memorial to memorial. They are not too expensive and can save your feet for walking the museums.

Bikes - You can rent bikes. This is a fun way to see the mall as well.

Segway - We haven't tried this, but you can also go on Segway tours. This sure looks like a lot of fun. Not for many families, though, as you must be 16 to ride one (Washington DC Law).

Where to eat at the National Mall

There aren't a lot of restaurants located in the Mall. Most of the Smithsonian Museums have restaurants. The Air and Space Museum has fast food (McDonalds) which can be a good quick lunch for the family. Another option is to bring a picnic lunch or use lunch/dinner as a chance to take a break and head to a restaurant somewhere else in town.

Other Places for families to visit in Washington DC:
Smithsonian Air and Space Museum
National Zoo
Smithsonian Museum of Natural History
Fun family sites in Washington DC



Other vacation ideas:
New York City
Myrtle Beach
Disney World
Niagara Falls
Copenhagen, Denmark
California

Back to Family Vacations

Back to Ducksters Home Page