Back to Washington DC
Back to Family Vacations
| | |
| --- | --- |
| Family Vacations and Reviews Smithsonian National Zoo | |

When on a family vacation to Washington DC, be sure to make a visit to the National Zoo. As part of the Smithsonian, the National Zoo is free to visit (even better for large families!).

What to see at the National Zoo

There is plenty to see and do for families at the National Zoo. Some of our favorite exhibits to visit with kids include: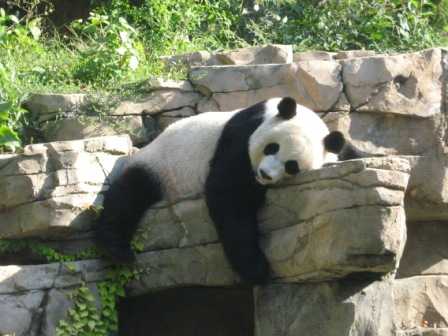 Giant Pandas Habitat - The National Zoo has the giant panda's Mei Xiang and Tian Tian on loan from china. This is a unique experience to see giant pandas as only a few zoos in the United States are so lucky as to have them. They will likely be sleeping or lounging around if it's hot, so try the early morning to catch them while they are more active.

Elephant Trails - Check out these giant animals here. Currently there is a baby elephant, too. Note: this is a new exhibit to open in 2012. Should be beautiful. Previously you could see the elephants at the Elephant house. Check the times for an elephant viewing in the outdoor area.

Great Ape House - Gorillas and Orangutans can be found here. Sometimes at the Think Tank demonstrations with the orangutans can be fun for kids. See how researchers study the memory of orangutans. Sometimes you can also see the orangutans travel from the ape house to the think tank via ropes over where the visitors walk.

Great Cats Exhibit - See both Lions and Tigers. Roar!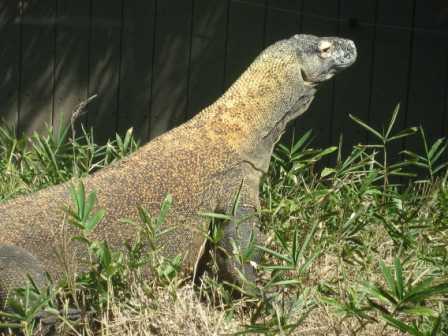 Reptile Discovery Center - Kids like to check out the snakes, lizards, turtles, and even komodo dragons at a safe distance in this exhibit.

Kid's Farm - Learn how farmers take care of animals. See alpacas, cows, rabbits, hogs, and more.

Other - There are many more animals and exhibits. You and your family can spend the good deal of a day here if you really enjoy animals and zoos. Be sure to check the times as there are feedings, demonstrations, and researcher discussions scheduled for various animals throughout the day. This can be a great way for kids to get a closer view of the animals. There are plenty of places and to eat. There are also gift shops to get that special souvenir.

How to get to the National Zoo

The Zoo is about 3.5 miles North of the National Mall or downtown Washington DC.

If you have a car you can drive there and park. Parking may be at a premium during busy times and it does cost money.

You can get there by Metro via Woodley Park-Zoo/Adams Morgan stop or the Cleveland Park stop. These stations are both around the same distance to the walking entrance on Connecticut Avenue. We have not tried both stops, but hear that the Woodley Park stop is slightly closer, but uphill, while the Connecticut Avenue is a more level walk.

There is a bus stop right at the zoo, if you can't drive or walk from the Metro station.

Other Places for families to visit in Washington DC:
Smithsonian Air and Space Museum
National Mall
Smithsonian Museum of Natural History
Fun family sites in Washington DC

Other vacation ideas:

Other vacation ideas:
New York City
Myrtle Beach
Disney World
Niagara Falls
Copenhagen, Denmark
California

Back to Family Vacations

Back to Ducksters Home Page