Biography >> World War 2 for Kids
Biography
George Patton
Occupation: General
Born: November 11, 1885 in San Gabriel, California
Died: December 21, 1945 in Heidelberg, Germany
Best known for: Commanding the U.S. Army during World War II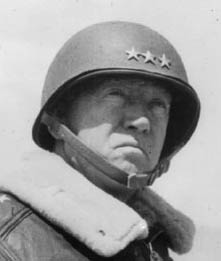 George S. Patton

Source: Library of Congress


Biography:

Where did George Patton grow up?

George Patton was born in San Gabriel, California on November 11, 1885. He grew up on his family's large ranch in California near Los Angeles where his dad worked as a lawyer. As a child, George loved to read and go horseback riding. He also liked to hear stories of his famous ancestors who fought during the Civil War and the Revolutionary War.

From an early age, George decided he would enter the military. He dreamed of one day becoming a war hero like his grandfather. After high school, George went to the Virginia Military Institute (VMI) for a year and then entered the United States Military Academy at West Point. He graduated from West Point in 1909 and entered the army.

Early Career

Patton began to make a name for himself early in his military career. He became the personal aide to commander John J. Pershing. He also led an attack during the Pancho Villa Expedition in New Mexico that led to the killing of Pancho Villa's second in command.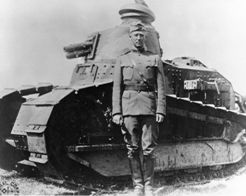 George S. Patton

Source: World War I Signal Corps Photograph Collection

World War I

When World War I began, Patton was promoted to captain and travelled to Europe with General Pershing. During the war, Patton became an expert on tanks, which were a new invention during World War I. He led a tank brigade into battle and was wounded. By the end of the war he had been promoted to major.

World War II

When World War II broke out in Europe, Patton became an advocate for tank warfare. He was promoted to general and began to prepare the U.S. armored tank divisions for war. He even earned a pilot's license so he could observe his tanks from the air and improve on his tactics. Patton became famous during this time for his tough motivating speeches to his troupes and earned the nickname "old blood and guts."

Invasion of Italy

After Pearl Harbor, the U.S. entered World War II. Patton's first action was to take control of North Africa and Morocco. After successfully gaining control of Morocco, he then led the invasion into Sicily, Italy. The invasion was a success as Patton took control of the island and took more than 100,000 enemy troops captive.

A Rough Commander

Patton was a very demanding commander. He required strict discipline and obedience from his soldiers. He got into trouble at one point for verbally abusing and slapping soldiers. He had to apologize and didn't command an army in battle for nearly a year.

Battle of the Bulge

Patton was given command of the Third Army in 1944. After the Invasion of Normandy, Patton led his army across France pushing back the Germans. One of Patton's greatest achievements as a commander occurred when the Germans counterattacked at the Battle of the Bulge. Patton was able to quickly disengage his army from their current battle and move to reinforce the Allied lines with incredible speed. His speed and decisiveness led to the rescue of the troops at Bastogne and helped to crush the Germans in this final major battle.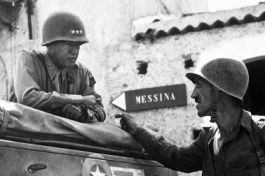 Patton at Brolo, Italy

Source: National Archives

Patton then led his army into Germany where they advanced with great speed. They captured over 80,000 square miles of territory. Patton's 300,000 man strong army also captured, killed, or wounded around 1.5 million German soldiers.

Death

Patton died a few days after a car crash on December 21, 1945. He was buried in Hamm, Luxembourg.

Interesting Facts about George Patton
Patton was an excellent swordsman, horseman, and athlete. He finished 5th in the pentathlon in the 1912 Olympics.
He once saved several children from drowning after they had fallen out of a boat into the ocean.
The 1974 film "Patton" won the Academy Award for best picture and best actor.
He was known for carrying ivory-handled Colt .45 pistols with his hand carved initials.
He was put in charge of a fake decoy army during D-Day to fool the Germans as to where the Allies would first invade.
One of his grandfathers fought in the Civil War and the other was mayor of Los Angeles.
Activities
Listen to a recorded reading of this page:




Learn More about World War II:


Works Cited

History >> World War 2 for Kids