Biography >> World War 2 for Kids
Biography
Charles de Gaulle
Occupation: General and President of France
Born: November 22, 1890 in Lille, France
Died: November 9, 1970 in Colombey-les-Deux-Eglises, France
Best known for: Leading Free France during World War II
Biography:

Where did Charles de Gaulle grow up?

Charles de Gaulle was born in Lille, France on November 22, 1890. His father, Henri, was a professor who taught him about the rich history of France. Growing up, Charles loved to read his father's books and reenact French military battles from history. When he was eleven, his family moved to Paris where he attended school.

As Charles grew older he began to feel that he had a destiny to serve France. He decided to join the army and attended Saint-Cyr military academy, an elite military school.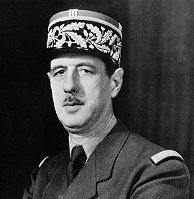 Charles de Gaulle

Source: US Government


Early Career

Charles joined the army in 1912. Just a few years later, in 1914, World War I broke out. Charles fought bravely during the war. He was wounded several times and was eventually captured by the Germans. While a prisoner, he unsuccessfully tried to escape five different times, but remained a prisoner until the end of the war.

After World War I, Charles continued with the military. He fought in several smaller wars and rose to the level of colonel. He developed many theories on how battles should be fought. He became frustrated with the outdated French strategies of trench warfare. He thought that fast-moving armored divisions were the future of war. His theories would later be proved correct when Hitler used a similar strategy to conquer much of Europe.

World War II Begins

When World War II broke out, de Gaulle quickly rose to the rank of brigadier general. However, as the Germans continued to take over French territory, he began to disagree with the leaders of the French government. They had decided to surrender, but de Gaulle wanted to keep fighting.

Free France

As the French government was surrendering to Germany, de Gaulle fled to Britain. Once in Britain he set up his own French government called Free France. He made speeches on BBC radio urging the French people to resist the rule of the Germans. Meanwhile the French government that had surrendered to Germany called him a traitor and sentenced him to death for treason.

De Gaulle continued to organize the Free France government as well as the French Resistance. He gathered French forces that had escaped from France in order to help liberate France when the time came. Finally, on D-Day, the Allies invaded France. De Gaulle's forces and the French Resistance played a part in the liberation. De Gaulle worked it out with General Eisenhower of the Allied forces that his French army would liberate Paris.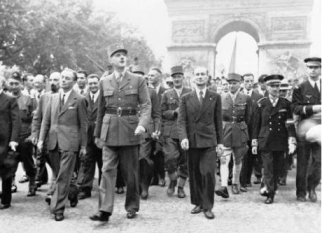 Charles de Gualle in Paris

Source: the Ministry of Information


Leader of France

After Germany was ousted from France, de Gaulle became the provisional leader of France from 1944 to 1946. He oversaw the end of World War II and helped France to form a new government. He resigned from office and left politics in 1946.

President of France

In 1958, de Gaulle returned to politics and was elected the President of France. He would remain president for ten years until 1969. During de Gaulle's time as president France's economy boomed and the country had fully recovered from World War II. France also became the world's fourth nuclear power (along with the United States, Great Britain, and the Soviet Union).

Death

He retired again from politics in 1969. He died a year later from a heart attack at his home.

Interesting Facts about Charles de Gaulle
His full name was Charles Andre Joseph Pierre Marie de Gaulle.
He did not get along with the other western leaders during World War II including Winston Churchill and Franklin Roosevelt.
He had a number of nicknames including "Big Charles", "Le Coloner Motor", and the "great asparagus."
France's largest and most busy airport is named after him; the Charles de Gaulle Airport.
He once said "The better I get to know men, the more I find myself loving dogs."
Activities
Listen to a recorded reading of this page:


Learn More about World War II:


Works Cited

History >> World War 2 for Kids