Harriet Tubman Biography
The Underground Railroad

Back to Biographies

What was the Underground Railroad?

As you probably know, the Underground Railroad wasn't an actual railroad. It was a loosely organized network of secret routes, safe houses, and people who were willing to aid runaway enslaved in their flight north. The Underground Railroad was run by escaped enslaved, free blacks, abolitionists, and Quakers. Quakers were a religious group who strongly believed that slavery was evil and should be abolished.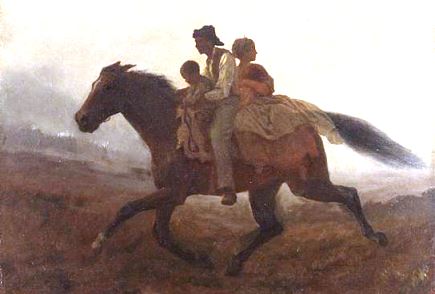 A Ride for Liberty -- The Fugitive Slaves

Author: Eastman Johnson



Harriet Tubman's Escape

Over the years, Harriet Tubman had heard about people who helped the enslaved escape north. She learned about a Quaker woman within walking distance who could help her get started. Once at this woman's house, Harriet was given a note with code words and directions to the next stop. She often traveled through the woods at night following a stream or the North Star to her next destination.

Harriet likely traveled from Maryland into Delaware and then north to Pennsylvania. The trip was around 90 miles which she mostly traveled by foot at night. Although Delaware was a free state, it remained dangerous due to an abundance of slave catchers in the region.

Underground Railroad Terms

A lot of the terms used in the Underground Railroad came from railroad terms such as stations, conductors, and cargo. Because both the runaway enslaved and the people helping them would be severely punished if caught, they used code words to help maintain secrecy.
Stations or Depots - Places where fugitive enslaved could hide out during the day or rest for a time were called stations or depots. Stations were country homes, barns, churches, caves, and even homes in the cities. Typical travel distance between stations on the way north was around 10 miles. It wasn't just the enslaved who were in danger, the people who harbored the enslaved also took a big risk, too. They faced large fines or imprisonment if caught.
Promised Land - The North was sometimes called the "Promised Land." Other code words for the North included "heaven" and "terminal." After the Fugitive Slave Act of 1850, Canada became the Promised Land as the northern United States was no longer safe for the runaway enslaved.
Conductors - People who helped runaway enslaved along their journey were called conductors. After escaping north, Harriet Tubman joined the Underground Railroad and became one of its most successful conductors.
Cargo - Enslaved people moving along the railroad were sometimes referred to as cargo. Other code words for the enslaved included "freight," "passengers," "parcels," and "bundles."
Liberty Lines - The routes followed by the enslaved to freedom were called "liberty lines" or "freedom trails." Routes were kept secret and seldom discussed by the enslaved even after their escape.
Stockholders - People who supported the Underground Railroad by providing money or resources.
Fugitive Slave Act of 1850

The Underground Railroad changed after the Fugitive Slave Act of 1850. This act required that escaped enslaved in the northern United States be returned to their owners in the South. The only safe place for escaped enslaved was now Canada. The Underground Railroad now had to help the enslaved make it to Canada. Safe houses throughout the North provided refuge for the enslaved from slave catchers during their journey to Canada.

William Still

A lot of what we know about the Underground Railroad comes from the records of William Still. Still was a free black man who served as a conductor on the Underground Railroad. He kept detailed records of the enslaved he aided (which were in the 100s) in order to help family members reunite once they reached freedom.



Harriet Tubman Biography Contents
Back to Biographies

More Civil Rights Heroes:

Susan B. Anthony
Cesar Chavez
Frederick Douglass
Mohandas Gandhi
Helen Keller
Martin Luther King, Jr.
Nelson Mandela
Thurgood Marshall
Rosa Parks
Jackie Robinson
Elizabeth Cady Stanton
Mother Teresa
Sojourner Truth
Harriet Tubman
Booker T. Washington
Ida B. Wells

More women leaders:



Works Cited