Harriet Tubman Biography
Later Life and Death - Quotes

Back to Biographies

Marriage

In 1867, Harriet learned that her ex-husband John Tubman had been murdered. In many ways, Harriet still considered John her husband, and it saddened her to discover his fate. Meanwhile, Harriet had fallen in love with a young man named Nelson Davis. Nelson and Harriet had met during the Civil War while Nelson served as a soldier in one of the Union's black regiments. They had renewed their friendship when Nelson arrived in Auburn, NY. On March 18, 1869, Harriet and Nelson were married. They were married for nineteen years before Nelson died in 1888.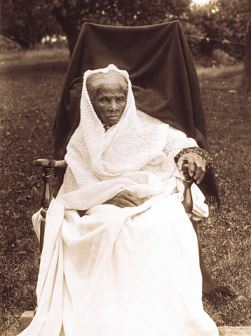 Harriet Tubman, 1911

Source: Library of Congress



Financial Issues and Military Pension

Harriet Tubman lived much of her later life in near poverty. She would work odd jobs or receive money from donors to help pay her bills. Whatever money Harriet earned, she used to help others including her family and struggling former enslaved.

Some of Harriet's friends tried to get her back pay for all of her service during the Civil War. She had worked as a nurse, a spy leader, and even led one of the more successful Union raids in South Carolina, but had never been paid by the U.S. government. Many of the early requests for payment were denied by the Congress. For several years the only income that Harriet received was a widow's pension of $8 a month for her husband's service. In 1899, the Congress finally agreed to raise her monthly pension to $20 a month.

Harriet's Story

Some of what we know about Harriet Tubman's life comes from two biographies written by Sarah Bradford; Scenes in the Life of Harriet Tubman and Harriet, the Moses of Her People. Although historians disagree with some of the facts given in these books, they give a direct insight into Harriet's life. Harriet also received some much needed funds from the publishing of the books.

Death

As Harriet grew older she could no longer run her house to support poor and aged African Americans. She donated the house and land to the AME Zion Church of Auburn, NY. The house became known as the Harriet Tubman Home for the Aged. Harriet's struggle with migraine headaches and seizures became worse in her old age. At one point she had brain surgery to try and alleviate the pain. In 1911, she moved into the Harriet Tubman Home and died a few years later in 1913.

Harriet Tubman Quotes

"If you hear the dogs, keep going. If you see the torches in the woods, keep going. If there's shouting after you, keep going. Don't ever stop. Keep going. If you want a taste of freedom, keep going."

"There was one of two things I had a right to: liberty or death. If I could not have one, I would take the other, for no man should take me alive. I should fight for liberty as long as my strength lasted."

"Every great dream begins with a dreamer."

"When I found I had crossed that line, I looked at my hands to see if I was the same person."

"I freed thousands of slaves, and could have freed thousands more, if they had known they were slaves."



Harriet Tubman Biography Contents
Back to Biographies

More Civil Rights Heroes:

Susan B. Anthony
Cesar Chavez
Frederick Douglass
Mohandas Gandhi
Helen Keller
Martin Luther King, Jr.
Nelson Mandela
Thurgood Marshall
Rosa Parks
Jackie Robinson
Elizabeth Cady Stanton
Mother Teresa
Sojourner Truth
Harriet Tubman
Booker T. Washington
Ida B. Wells

More women leaders:



Works Cited