Sports
Extreme: Snowboarding
Snowboarding is an awesome combination of skiing, skateboarding, and surfing. Snowboarders attach their boots to a board and slide down a snowy slope of some kind. It is a very popular winter sport.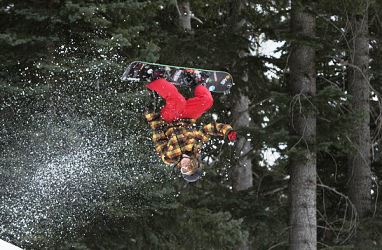 Snowboarder Charity McGeary

Source: U.S. National Guard



If you are new to snowboarding, it is a good idea to get lessons. Snowboarding can be fun, but learning it on your own is not easy. You will have a lot more fun if you get a trained instructor to show you the ropes.

Tips for the beginning snowboarder:


The snowboard is not easy to control when the board is flat. You want to use the heelside or toeside on the snow to keep control
Keep your knees bent! This will help going over bumps.
Use your heels and toes to turn the board. If you try to shift your entire body weight you will fall. Try to keep your center of gravity over the middle of the board.
When your board is not strapped to your boots, keep the board upside down. This way the bindings will prevent the board from sliding all the way down the hill!
Relax!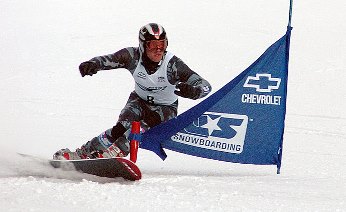 Snowboarder Ryan McDonald
Source: U.S. Army
Snowboarding equipment

Snowboarding equipment includes the snowboard and bindings, boots, safety equipment, and winter clothes.

A snowboard is usually made out of wood, plastic, or foam. At the bottom of the snowboard is a base. This base is waxed to create a smooth surface to glide along the snow. There is also a strip of metal along the side on the bottom of the snowboard called the edge. The edge is important to allow the snowboarder to grip the snow and make turns.

Bindings are attached to the top of the snowboard. They connect the boots to the snowboard. Step-in bindings are great for beginners as they allow for a quick step into the bindings and are easy to use. Conventional or strap-in bindings are harder to attached, but offer better support and are usually preferred by experienced snowboarders.

For safety equipment a helmet is required. Wrist guards and knee pads should also be used, especially for young and inexperienced snowboarders.

You will also want good waterproof winter clothing to keep you warm in the snow. Gloves, pants, a jacket, and goggles are all good to keep you warm while out on the slopes.

Competitive Snowboarding

Snowboarding is mostly a recreational sport, but it is also a competitive sport. It has reached enough worldwide popularity to become an Olympic sport. Olympic snowboard events include Half-pipe, Snowboard Cross, and the Parallel Giant Slalom. There are men's and women's events for each competition. The snowboard slalom and the snowboard cross are racing events. The half-pipe is a judged event where judges rate the snowboarders based on basic moves and spins, flips, technical merit, landing, and how high they get when performing their tricks.
Extreme summer sports:
BMX In-Line Skating MotoX Skateboarding Surfing
Extreme winter sports:
Skiing Snowboarding Snowmobile
Shawn White Biography