Sports
Extreme: Skiing
Speed Skiing
Snow Skiing is probably the most traditional and popular winter sport in the world. Snow skiing is a very popular recreational sport, but is also a competitive sport in the Olympics and the X Games.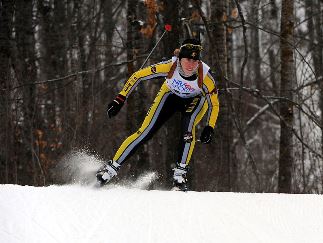 Source: US Army

Skiing Equipment

The basic equipment needed for skiing includes the skis, ski boots, ski polls, helmet, gloves, goggles, and good warm ski clothes. There are a wide variety of ski types and ski boots. It's important to keep your ski edges sharp. It's also important to make sure you have good fitting ski boots that are adjusted for the type of skiing you plan to do. Ski equipment can be expensive, especially if you don't ski very much, so many people rent the equipment.

Skiing basics

If you are a beginning skier we highly recommend that you take some lessons. This can make your overall skiing experience much more enjoyable. There are a few other things to keep in mind if you are a beginner:


Make sure that you go to a ski resort that has a beginners slope. You don't want to be speeding down a steep slope straight towards a tree before you know how to stop or turn!
Rent your ski equipment. It will likely be a waist of money to purchase your ski equipment before you have an idea of what you are doing and what you like.
Skiing can be fun and time can get away from you. Make sure you think about sun protection as the sun will reflect off the snow and you can burn your face very easily. Also, make sure you drink water and eat.
Make sure your ski boots fit your feet well.
When starting to ski, first learn how to snow plow and how to stop. Once you get to where you are comfortable that you can slow down, turn, and stop by snow plowing, then you can move on to more difficult (and fun) skiing techniques.


Competitive Snow Skiing

Traditional competitive skiing events include the popular Olympic events of downhill, slalom, cross country, and ski jump. The downhill, cross country, and slalom are racing events where skiers race against one another, but the main goal is to get through the course in the shortest amount of time.

The X Games has introduced some new skiing events that have gained widespread popularity including Skier X (a race where racers can bump each other) and Big Air (where skiers do tricks off a jump). Big Air is a judged sport where judges determine who wins based on a scoring system for difficulty, height, landing, and flare.

Extreme Speed Skiing

Gaining some momentum in the 90's, speed skiing is the sport of skiing fastest in a straight line downhill. Speed skiing is the fastest non-motorized winter sport on earth. It is dangerous and should only be done by trained skiers.

Speed skiing was a demonstration sport at the 1992 Winter Olympics.

Extreme summer sports:

BMX In-Line Skating MotoX Skateboarding Surfing

Extreme winter sports:

Skiing Snowboarding Snowmobile

Shawn White Biography