Sports
Soccer Tackling
Sports >> Soccer >> Soccer Gameplay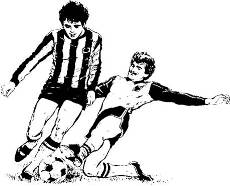 One key element to defense in soccer is the tackle. This is where you take the ball directly away from the dribbler. It is important that you pick the right time to tackle. If you miss the ball, the opponent may be past you and on their way to shooting a goal. If you hit the player and miss the ball, the opponent will be given a free kick.

Blocking Tackle

A block tackle is generally used when the player with the ball is coming directly towards you. You use the inside of one foot to block the ball and take it from your opponent.

To execute a block tackle you must choose the exact right time. When you see the opportunity to get to the ball, extend your foot and keep it firm. Chances are that you and the opponent will kick the ball at the same time. You must keep your foot more firm and drive the ball past the defender. If you do it correctly you will have the ball and be able to move directly to a counter-attack.

Poke Tackle

A poke tackle is a good way to slow down or disrupt the opponent's attack. It's generally used when coming in from the side or when the player with the ball is shielding the ball with their body.

To execute a poke tackle you extend your leg and use the tip of your foot to kick the ball away from the opponent. Be careful not to kick or trip your opponent or your may be called for a foul.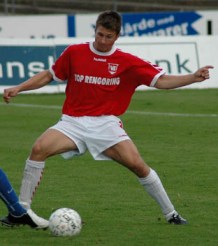 Sliding Tackle

One of the most risky, but spectacular tackles is the slide tackle. The slide tackle is risky because:
Once you slide you are on the ground and out of the play if you don't get the ball.
You or your opponent could be injured. For this reason you should always ask your coach if it is okay before attempting to slide tackle.
If you miss the ball and hit the opponent, you could be given a yellow card and the opponent a free kick.
Despite the risks, a properly executed slide tackle can be a way to take the ball from an opponent. When performing a slide tackle, players slide on one hip and then use the opposite leg to take the ball. The bottom leg should be bent which will allow the player to pop back up and retrieve the ball. It is important that you don't kick or trip your opponent.

Again, slide tackles should only be tried if you have practiced them and gotten the okay from your coach.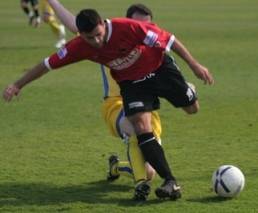 Slide tackles can result in a yellow card and foul



When not to Tackle

As described above, if you miss the ball, but hit the player on a tackle, they will be awarded a free kick. If this happens within the penalty area, it will be a penalty kick, which will likely result in a goal. For this reason we recommend you never slide tackle within the penalty area, but defend from your feet.

More Soccer Links:



Back to Soccer

Back to Sports