Sports
Basketball: Games for Practice
Sports >> Basketball

H-O-R-S-E
Object is to not spell the word "HORSE".
Players take turns shooting.
When a player makes a shot, then the next player in line must make the same shot.
If the next player misses, she gets the next letter in the word "horse".
As long as the shot is made, the next player in line must make that same shot until the turn gets back to the original shot maker or until the shot is missed.
The next player in line after a missed shot, gets to start over again with a shot of their choice.
When a player spells the entire word "HORSE". they are out of the game.
Last player left wins the game.
Around the World
Object is to be the first player to make it "around the world".
To make it around the world, you must make a series of shots in order. You can set up your own series of shots for your game. An example is given in the picture below.
Each player gets a turn.
When it's your turn you take shots in order. If you make a shot, you get to keep going until you miss.
When you miss you can choose to end your turn and stay where you are or you can take a "chance" shot.
If the chance shot is made, the player moves on. If it is missed their turn is over and they have to start from the beginning on their next turn.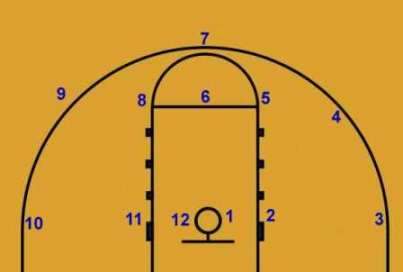 Possible shot order for Around the World


Twenty-one
Object is to be the first player to 21. If you go over 21, you have to go back to 13.
Typically played with three to five players.
One player gets to start the game by shooting free throws.
If he makes a free throw, he gets another free throw, up to three consecutive free throws.
Each made free throw is worth one point.
If a free throw is made, the ball is live and all players can rebound the ball.
The ball must be taken back. Depending on the court rules this might be the free throw line or the top of the key.
Once taken back, the next player to score a basket gets two points.
Whoever makes a basket, then gets to shoot free throws.
If a player makes three consecutive free throws, then they get the ball at the top of the key and the ball is live.
All rules generally apply as in normal basketball. This includes no walking, double dribbling, etc.


Three-on-three Half Court

If you don't have enough people for a full court five on five game of basketball, you can always play a smaller game. Three-on-three half court can be great fun. Everyone tends to the ball more and has more chances to shoot. One good rule to use for three-on-three is taking the ball back between possessions. After one team grabs a defensive rebound, they must then take the ball back to the top of the key before shooting.

More Basketball Links:



Back to Basketball

Back to Sports