Middle Ages
A Knight's Armor and Weapons

History >> Middle Ages for Kids

The most valuable items to a knight were his armor, weapons, and his war horse. These three items were very expensive, meaning that only the wealthy could afford to be knights. Many knights hoped to regain some of the cost through plunder when they conquered enemy towns and cities.

Armor

During the Middle Ages knights wore heavy armor made of metal. There were two main kinds of armor: chain mail and plate armor.

Chain mail

Chain mail was made from thousands of metal rings. The typical chain mail armor was a long cloak called a hauberk. Knights wore a padded cloak underneath the armor to help cushion the weight of the armor. A chain mail hauberk could weigh as much as 30 pounds.

Although chain mail was flexible and offered good protection, it could be pierced by an arrow or thin sword. Some knights began to put plates of metal over vital parts of their bodies for added protection. Soon they were completely covered in plate armor and they stopped wearing chain mail.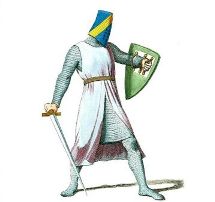 Knight in Chain Mail

by Paul Mercuri


Plate armor

By the 1400s most knights were wearing full plate armor. This armor offered better protection, but it was less flexible and heavier than chain mail. A full set of plate armor weighed around 60 pounds. Many pieces of the armor had a unique name.

Here are some of the different pieces of plate armor and what they protected:

Greaves - ankles and calves
Sabatons - feet
Poleyns - knees
Cuisses - thighs
Gauntlets - hands
Vambrace - lower arms
Pauldron - shoulders
Breastplate - chest
Rerebrace - upper arms
Helmet - head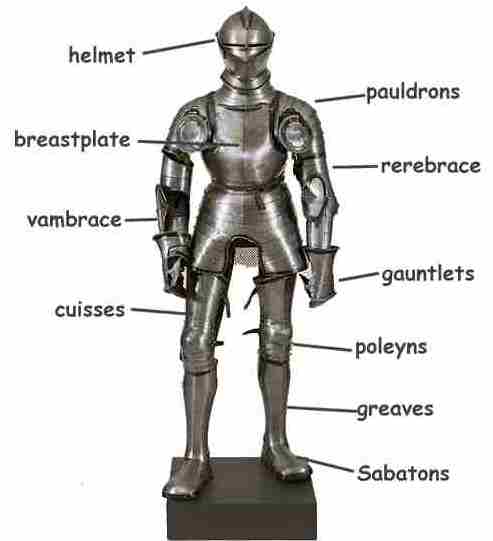 Armor for Fighting on Horseback

from the Walters Art Museum (labels by Ducksters)

Weapons

Knights of the Middle Ages used a variety of weapons. Some weapons were more effective when charging on a horse (like the lance), while others were better for hand to hand combat (like the sword).
Lance - The lance was a long wooden pole with a metal tip and hand guards. Because the lance was so long, the knight could attack from his horse. This gave the knight a serious advantage against foot soldiers. The lance could also be used to knock enemy knights off of their horses.
Sword - The sword was the preferred weapon once the knight had dismounted or if his lance was broken during battle. Some knights preferred a one-handed sword and a shield, while others preferred a larger two-handed sword.
Mace - The mace was a club with a big steel head. These weapons were designed to crush an enemy.
Longbow - Many knights considered the longbow to be a cowardly weapon. However, the longbow became a major part of winning battles in the Middle Ages. The longbow could attack from a distance or a castle wall.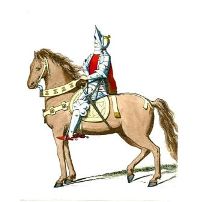 Armored Knight

by Paul Mercuri

War Horse

One of the knight's most important possessions was his war horse. This horse was trained for battle. It wouldn't shy away from blood or combat. A good war horse could mean the difference between life and death for a knight.

The knight's war horse was called a destrier. The horse also wore armor for protection including metal plates to cover its neck, head, and sides.

Siege Weapons

Knights also had to know how to use siege weapons. These were special weapons used to capture castles.
Belfry - The belfry was a tall rolling tower that would allow soldiers to safely approach the castle walls. Once they reached the castle, they would exit the tower onto the top of the walls.
Catapult - A catapult could throw huge boulders onto the walls of the castle. These boulders could break down the walls and destroy buildings inside the castle.
Battering ram - The battering ram was a huge heavy log used to smash down the gates of the castle.
Interesting Facts about a Knight's Armor and Weapons
Knights had to practice putting on and wearing their armor. It took skill to ride a horse and fight with such heavy armor on.
A plate mail armor suit was sometimes known as a harness.
Sometimes war horses were fitted with iron horse shoes which could be used as weapons against foot soldiers.
Some two-handed swords were well over five feet long.
Activities
Take a ten question quiz about this page.


Listen to a recorded reading of this page:

Your browser does not support the audio element.


More subjects on the Middle Ages:


Works Cited

History >> Middle Ages for Kids