What powers did Zeus have?

Zeus was the most powerful of the Greek gods and had a number of powers. His most famous power is the ability to throw lightning bolts. His winged horse Pegasus carried his lightning bolts and he trained an eagle to retrieve them. He could also control the weather causing rain and huge storms.

Zeus also had other powers. He could mimic people's voices to sound like anyone. He could also shape shift so that he looked like an animal or a person. If people made him angry, sometimes he would turn them into animals as punishment.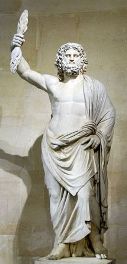 Zeus
Photo by Marie-Lan Nguyen