Greek Mythology
Artemis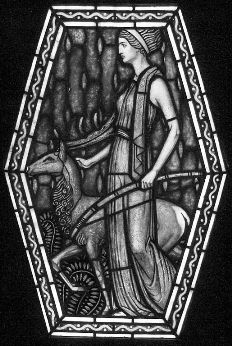 Artemis

by Geza Maroti

History >> Ancient Greece >> Greek Mythology

Goddess of: The hunt, wilderness, moon, and archery
Symbols: Bow and arrow, hunting dog, moon
Parents: Zeus and Leto
Children: none
Spouse: none
Abode: Mount Olympus
Roman name: Diana

Artemis is the Greek goddess of the hunt, wilderness, moon and archery. She is the twin sister of the god Apollo and one of the Twelve Olympian gods who live on Mount Olympus. She spends much of her time in the forest surrounded by animals such as hunting dogs, bears, and deer.

How was Artemis usually pictured?

Artemis is generally pictured as a young girl wearing a knee-length tunic and armed with her bow and arrow. She often is shown accompanied by forest creatures such as deer and bears. When traveling, Artemis rides a chariot pulled by four silver stags.

What special powers and skills did she have?

Like all the Greek Olympic gods, Artemis was immortal and very powerful. Her special powers included perfect aim with the bow and arrow, the ability to turn herself and others into animals, healing, disease, and control of nature.

Birth of Artemis

When the Titan goddess Leto became pregnant by Zeus, Zeus' wife Hera became very angry. Hera placed a curse on Leto that prevented her from having her babies (she was pregnant with twins) anywhere on the earth. Leto eventually found the secret floating island of Delos, where she had the twins Artemis and Apollo.

Six Wishes

When Artemis turned three years old, she asked her father Zeus for six wishes:
to never get married
to have more names than her brother Apollo
to have a bow and arrows made by the Cyclopes and a knee-length hunting tunic to wear
to bring light to the world
to have sixty nymphs for friends who will tend to her hounds
to have all the mountains as her domain
Zeus couldn't resist his little girl and granted her all her wishes.

Orion

One of Artemis' best friends was the giant hunter Orion. The two friends loved to hunt together. However, one day Orion boasted to Artemis that he could kill every creature on Earth. The goddess Gaia, Mother Earth, heard the boast and sent a scorpion to kill Orion. In some Greek stories, it is actually Artemis who ends up killing Orion.

Fighting Giants

One Greek myth tells the story of two huge giant brothers called the Aloadae giants. These brothers grew very large and powerful. So powerful that even the gods began to fear them. Artemis discovered that they could only be killed by each other. She disguised herself as a deer and jumped between the brothers while they were hunting. They both threw their spears at Artemis, but she dodged the spears just in time. The brothers ended up striking and killing each other with their spears.

Interesting Facts About the Greek Goddess Artemis
When Queen Niobe mocked her mother Leto for only having two children, Artemis and Apollo took their revenge by killing all fourteen of Niobe's children.
Despite not having any kids of her own, she was often considered the goddess of childbirth.
She was the protector of young girls until they became married.
Artemis was the first of the twins born. After being born, she then helped her mother in the birth of her brother Apollo.
One of the largest temples built to a Greek god or goddess was the Temple of Artemis in Ephesus. It was so impressive that it was named one of the Seven Ancient Wonders of the Ancient World.
Activities
Take a ten question quiz about this page.


Listen to a recorded reading of this page:

Your browser does not support the audio element.
For more about Ancient Greece:
Works Cited