Ancient Egypt - Biography
Thutmose III

Biography >> Ancient Egypt


Occupation: Pharaoh of Egypt
Born: 1481 BC
Died: 1425 BC
Reign: 1479 BC to 1425 BC
Best known for: Being a great general and known as the "Napoleon" of Egypt
Biography:

Thutmose III is known as one of the greatest pharaohs in the history of Ancient Egypt. During his rule of 54 years, he defeated many of Egypt's enemies and greatly expanded the extent of the Egyptian Empire.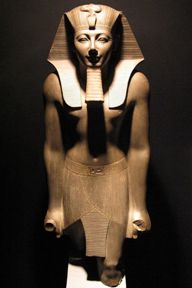 Thutmose III Statue

From the Luxor Museum

Growing Up

Thutmose III was born a prince of the Egyptian Empire. His father, Thutmose II, was pharaoh of Egypt. His mother, Iset, was a secondary wife of the pharaoh. Thutmose III grew up learning about the responsibilities and roles of the pharaoh.

When Thutmose III was still a young child, probably two or three years old, his father died. Thutmose was officially crowned the new pharaoh, but his aunt, Queen Hatshepsut, served as his regent. Eventually, Hatshepsut became very powerful and took the title of pharaoh for herself.

Queen Hatshepsut

Hatshepsut was a strong pharaoh and a good leader. Egypt prospered under her rule. Meanwhile, when Thutmose III grew older he took up a leadership role in the army. While in the army, he learned about warfare and how to be a good commander. This experience would serve him well later in life.

Becoming Pharaoh

After 22 years of rule, Hatshepsut died and Thutmose III took on the role and power of pharaoh. He was the sixth pharaoh of the Eighteenth Dynasty. Thutmose had waited in the wings for many years, now his time had come. Many of Egypt's rivals were ready to test the new pharaoh in battle. Thutmose was ready.

A Great General

Not long after becoming pharaoh, several kings from the east rebelled against Egypt. Thutmose III quickly marched his army to meet the rebels. He personally led a surprise attack through a narrow mountain pass to defeat the enemy at the Battle of Megiddo. He soundly defeated the rebels and brought them back under Egypt's control.

Thutmose III continued to launch military campaigns throughout his reign. Over the course of at least seventeen military campaigns, Thutmose conquered hundreds of cities and expanded Egypt's borders to include Nubia, Canaan, and southern Syria. He was both a military genius and brave warrior. He often fought on the front lines, leading his army into battle.

Building

Like many great pharaohs of the New Kingdom period, Thutmose III was a prolific builder. Egyptian writings record that he had over fifty temples built throughout Egypt. He made many additions to the Temple of Karnak at Thebes including new pylons and several towering obelisks.

Death

Thutmose III died around the year 1425 BC. He was buried in an elaborate tomb in the Valley of the Kings.

Interesting Facts About Thutmose III
Other spellings for his name include Thutmosis and Tuthmosis. His name means "Thoth is born."
Thutmose treated the peoples he conquered well. They generally experienced peace and prosperity after becoming part of the Egyptian Empire.
There are no records of Thutmose ever losing a battle.
Some of the obelisks constructed by Thutmose are now in various places around the world. One is in Central Park in New York City and another is on the banks of the River Thames in London, England. They both have the strange nickname "Cleopatra's Needle."
Activities
Listen to a recorded reading of this page:

Your browser does not support the audio element.


More information on the civilization of Ancient Egypt:



Works Cited

Biography >> Ancient Egypt