Centrifuge

In some cases, there are suspension mixtures where the solid particles are too fine to be separated with a filter. In these cases, sometimes a centrifuge is used. Centrifuges are mechanical devices that spin at very high speeds. These high speeds allow the solid particles in suspensions to settle very quickly. For example, rather than wait for sand to slowly settle to the bottom of water, a centrifuge can cause the sand to settle in a matter of seconds.

Some examples of how centrifuges are used include separating blood into plasma and red cells, separating cream from milk, and separating uranium isotopes for nuclear power plants.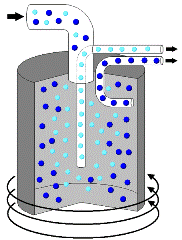 The heavier particles move to the outside
of the cylinder as the centrifuge spins
allowing the mixture to be separated.