Sports
NASCAR: Race Car Drivers
NASCAR Races and Racetracks NASCAR Cars NASCAR Glossary
Back to the main NASCAR page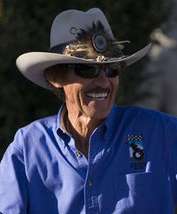 At first glance, the job of a NASCAR driver may seem easy. They drive around in circles for a few hours once a week, collect a paycheck, and then hop on a plane or a bus to the next track. Not so fast! NASCAR drivers are high paid professional athletes for a reason. They are best at their sport.

Driving Skills and Courage

If you've ever been to a NASCAR race then you know that those cars are going fast. They are big heavy cars going at nearly 200 miles per hour. Think about that. If your Dad was driving down the free way at 100 miles per hour (way too fast, by the way), a NASCAR race car would pass him as if he were standing still. That's fast!

NASCAR drivers must be able to handle a car running at top speeds, but also be surrounded by other cars doing the same only inches away! They must drive with absolute precision and then be able to pass, adjust for track conditions, avoid wrecks, and keep to a race strategy for hours. This takes years of practice and a lot of natural talent.

Endurance

NASCAR drivers must also be in good shape. Sure they are just driving, but they must drive with the precision and skill we talked about in the earlier section for hours at a time. They don't get time outs or half times like in other sports. They have to be fully concentrating and handling a large heavy car at top speeds, shifting constantly, and ready to react in a split second, all for hours straight. They can't get tired or cramped after a few hours. They also must do this in a hot, confined space. They must be in top physical shape to be able to do this.

Car Smarts and Teamwork

Lastly, a NASCAR driver has to be smart. Good driving skills and courage will only get you so far. Throughout any NASCAR race the car will require all sorts of adjustments to be kept running at top speed. The driver has to help figure out what these adjustments are. The driver's recommendations to his or her race team are critical to winning the race. One bad call or bad piece of information from the driver and it could cost them valuable time.


List of Current Full Time NASCAR Sprint Cup Drivers (as of 2011)
| | | | |
| --- | --- | --- | --- |
| Driver Name | Number | Rookie Year | Wins |
| A. J. Allmendinger | 43 | 2007 | 0 |
| Marcos Ambrose | 9 | 2007 | 0 |
| Greg Biffle | 16 | 2003 | 16 |
| Dave Blaney | 36 | 2000 | 0 |
| Clint Bowyer | 33 | 2006 | 4 |
| Jeff Burton | 31 | 1994 | 21 |
| Kurt Busch | 22 | 2001 | 22 |
| Kyle Busch | 18 | 2005 | 19 |
| Dale Earnhardt, Jr. | 88 | 2000 | 19 |
| Carl Edwards | 99 | 2004 | 18 |
| David Gilliland | 34 | 2006 | 0 |
| Jeff Gordon | 24 | 1993 | 83 |
| Denny Hamlin | 11 | 2006 | 16 |
| Kevin Harvick | 29 | 2001 | 14 |
| Jimmie Johnson | 48 | 2002 | 54 |
| Kasey Kahne | 4 | 2004 | 11 |
| Matt Kenseth | 17 | 2000 | 18 |
| Brad Keselowski | 2 | 2009 | 1 |
| Travis Kvapil | 38 | 2005 | 0 |
| Bobby Labonte | 47 | 1993 | 21 |
| Joey Logano | 20 | 2009 | 1 |
| Mark Martin | 5 | 1982 | 40 |
| Michael McDowell | 66 | 2008 | 0 |
| Jamie McMurray | 1 | 2003 | 6 |
| Casey Mears | 13 | 2003 | 1 |
| Paul Menard | 27 | 2007 | 0 |
| Juan Pablo Montoya | 42 | 2007 | 2 |
| Joe Nemechek | 87 | 1994 | 4 |
| Ryan Newman | 39 | 2002 | 14 |
| David Ragan | 6 | 2007 | 0 |
| David Reutimann | 0 | 2007 | 2 |
| Regan Smith | 78 | 2008 | 0 |
| Tony Stewart | 14 | 1999 | 39 |
| Martin Truex Jr. | 56 | 2004 | 1 |
| Brian Vickers | 83 | 2003 | 2 |
| J. J. Yeley | 46 | 2006 | 0 |


Back to Sports

More NASCAR:
NASCAR Races and Racetracks
NASCAR Cars
NASCAR Glossary
NASCAR Drivers
List of NASCAR Race Tracks

Auto Racing Biographies:
Jimmie Johnson
Dale Earnhardt Jr.
Danica Patrick