Glacier Features
Ablation zone - The ablation zone is the area below the accumulation zone where the glacial ice exists. In this area there is a loss in ice mass due to ablation such as melting and evaporation.
Accumulation zone - This is the area of the glacier where snow falls and accumulates. It is located above the ablation zone. It is separated from the ablation zone by the equilibrium line.
Crevasses - Crevasses are giant cracks that occur on the surface of glaciers typically where the glacier flows the fastest.
Firn - Firn is a type of compacted snow that lies between the new snow and the glacial ice.
Head - The glacier head is where the glacier starts.
Terminus - The terminus is the end of the glacier. It is also called the glacier foot.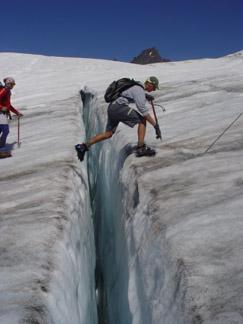 A glacier crevasse