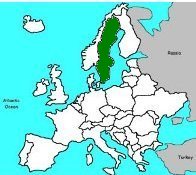 Geography >> Europe >> Sweden History and Timeline
Sweden
Capital: Stockholm

Population: 10,036,379
The Geography of Sweden
Borders: Norway, Finland, maritime (water) borders with Denmark, Germany, Poland, Russia, Lithuania, Latvia, and Estonia. Sweden is also connected to Denmark by the Oresund Bridge.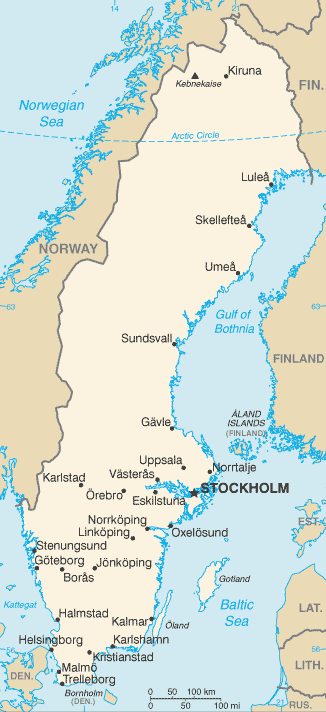 Total Size: 449,964 square km

Size Comparison: slightly larger than California

Geographical Coordinates: 62 00 N, 15 00 E

World Region or Continent: Europe

General Terrain: mostly flat or gently rolling lowlands; mountains in west

Geographical Low Point: reclaimed bay of Lake Hammarsjon, near Kristianstad -2.41 m

Geographical High Point: Kebnekaise 2,111 m

Climate: temperate in south with cold, cloudy winters and cool, partly cloudy summers; subarctic in north

Major Cities: STOCKHOLM (capital) 1.279 million (2009), Gothenburg, Malmo

Major Landforms: Scandinavian Mountains, Gotland Island, Oland Island, Norrland region, Svealand region, Gotaland region

Major Bodies of Water: Lake Vanern, Lake Vattern, Lake Siljan, Angerman River, Eman River, Indal River, Hano Bay, Gulf of Bothnia, Sea of Bothnia, Baltic Sea

Famous Places: Stockholm Palace, Ice Hotel, Kosterhavet National Park, Marstrand, Borgholm Castle, Drottningholm Palace, Gamla stan in Stockholm, Kalmar Castle, Vasa Museum, Oresund Bridge, Djurgarden, Nobel Museum
Economy of Sweden
Major Industries: iron and steel, precision equipment (bearings, radio and telephone parts, armaments), wood pulp and paper products, processed foods, motor vehicles

Agricultural Products: barley, wheat, sugar beets; meat, milk

Natural Resources: iron ore, copper, lead, zinc, gold, silver, tungsten, uranium, arsenic, feldspar, timber, hydropower

Major Exports: machinery 35%, motor vehicles, paper products, pulp and wood, iron and steel products, chemicals

Major Imports: machinery, petroleum and petroleum products, chemicals, motor vehicles, iron and steel; foodstuffs, clothing

Currency: Swedish krona (SEK)

National GDP: $384,700,000,000
Government of Sweden
Type of Government: constitutional monarchy

Independence: 6 June 1523 (Gustav VASA elected king)

Divisions: For administrative purposes, Sweden is divided up into 21 counties. The largest counties by population are Stockholm, Vastra Gotaland, and Skane. The largest by area are Norrbotten, Vasterbotten, and Jamtland.

Sweden is also divided up into 25 provinces. These provinces are not used for any government purpose, but are just traditional divisions based on the culture and history of each area. Some provinces and counties share the same names.

National Anthem or Song: Du Gamla, Du Fria (Thou Ancient, Thou Free)

National Symbols:

Animal - Lion, Elk
Flower - Linnea
Bird - Blackbird
Tree - Silver birch (Ornasbjork)
Motto - "For Sweden - With the Times"
Colors - Blue and yellow
National emblem - Three Crowns
Other symbols - Dala horse, Mother Svea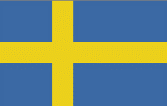 Description of flag: The flag of Sweden was adopted on Jun 22, 1906. It has a blue background with a yellow Scandinavian cross.

National Holiday: Flag Day, 6 June

Other Holidays: New Years' Day (January 1), Epiphany Day (January 6), Good Friday, May Day (May 1), Ascension Day (May 29), Sweden's National Day (June 6), Midsummer's Eve, Christmas (December 25)
The People of Sweden
Languages Spoken: Swedish, small Sami- and Finnish-speaking minorities

Nationality: Swede(s)

Religions: Lutheran 87%, Roman Catholic, Orthodox, Baptist, Muslim, Jewish, Buddhist

Origin of the name Sweden: The name "Sweden" comes from an old English word meaning "people of the Swedes." The Swedish word for the country is "Sverige" which means "Kingdom of the Swedes."

Famous People:
ABBA - Rock group
Ingrid Bergman - Actress
Bjorn Borg - Tennis player
Ray Bradbury - Author who wrote Fahrenheit 451
Anders Celsius - Scientist and astronomer, invented the Celsius temperature scale
Charles XII - King of Sweden during the Great Northern War
Greta Garbo - Actress
Zlata Ibrahimovic - Soccer player
Stieg Larsson - Author
Astrid Lindgren - Author of children's books
Henrik Lundqvist - Hockey player
Alfred Nobel - Scientist who invented dynamite
Ann-Margret - Actress
Annika Sorenstam - Professional golfer
Gustav Vasa - King of Sweden, founder of modern Sweden


Geography >> Europe >> Sweden History and Timeline


** Source for population (2019 est.) is United Nations. GDP (2011 est.) is CIA World Factbook.