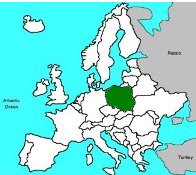 Geography >> Europe >> Poland History and Timeline
Poland
Capital: Warsaw

Population: 37,887,768
The Geography of Poland
Borders: Germany, Czech Republic, Slovakia, Ukraine, Belarus, Lithuania, Kaliningrad Oblast (Russia), Baltic Sea. Poland's location in Eastern Europe between Russia and Germany has long made it the battleground of many wars including both World Wars.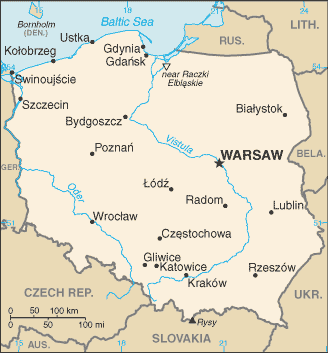 Total Size: 312,685 square km

Size Comparison: slightly smaller than New Mexico

Geographical Coordinates: 52 00 N, 20 00 E

World Region or Continent: Europe

General Terrain: mostly flat plain; mountains along southern border

Geographical Low Point: near Raczki Elblaskie -2 m

Geographical High Point: Rysy 2,499 m

Climate: temperate with cold, cloudy, moderately severe winters with frequent precipitation; mild summers with frequent showers and thundershowers

Major Cities: WARSAW (capital) 1.71 million; Krakow 756,000 (2009), Lodz, Wroclaw

Major Landforms: Carpathian Mountains, Sudetes Mountians, Masurian Lake District, Mount Rysy, Polish Plain

Major Bodies of Water: Vistula River, Oder River, Warta River, Bug River, Sniardwy Lake, Lake Mamry, Wigry Lake, Vistula Lagoon, Gulf of Gdansk, Baltic Sea

Famous Places: Krakow Main Square, Tatra Mountains, Auschwitz concentration camp, Wawel Castle, Malbork Castle, Slowinski Sand Dunes, Wieliczka Salt Mine, Gdansk Old Town, Warsaw market, Palace of Culture and Science in Warsaw, Bieszcady Mountains, Bialowieza Forest, Wilanow Palace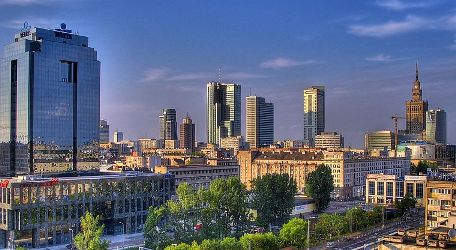 Skyline of Warsaw
Economy of Poland
Major Industries: machine building, iron and steel, coal mining, chemicals, shipbuilding, food processing, glass, beverages, textiles

Agricultural Products: potatoes, fruits, vegetables, wheat; poultry, eggs, pork, dairy

Natural Resources: coal, sulfur, copper, natural gas, silver, lead, salt, amber, arable land

Major Exports: machinery and transport equipment 37.8%, intermediate manufactured goods 23.7%, miscellaneous manufactured goods 17.1%, food and live animals 7.6% (2003)

Major Imports: machinery and transport equipment 38%, intermediate manufactured goods 21%, chemicals 14.8%, minerals, fuels, lubricants, and related materials 9.1% (2003)

Currency: zloty (PLN)

National GDP: $771,000,000,000
Government of Poland
Type of Government: republic

Independence: 11 November 1918 (independent republic proclaimed)

Divisions: The country of Poland is divided up into sixteen provinces called voivodeships. The largest of the voivodeships by population are Masovian, Silesian and Greater Poland. The largest by size are Masovian, Greater Poland, and Lublin.

National Anthem or Song: Mazurek Dabrowskiego (Dabrowski's Mazurka)

National Symbols:


Bird - White Stork, White-tailed eagle
Animal - European Bison
Tree - Oak tree
Flower - Cornflower
Colors - Red and white
Mottos (unofficial) - "For our freedom and yours", "God, Honor, Fatherland"
Coat of arms - A white eagle with a golden beak and crown on a red shield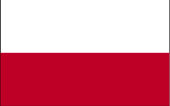 Description of flag: The flag of Poland was adopted on August 1, 1919. It consists of two horizontal stripes. The top stripe is white and the bottom stripe is red. The colors originally come from the Polish-Lithuanian Commonwealth. The white is from the White Eagle of Poland and the red is from the Grand Duchy of Lithuania.

National Holiday: Constitution Day, May 3rd (1791)

Other Holidays: New Years' Day (January 1), Easter Monday, Labor Day (May 1), Constitution Day (May 3), Pentecost, Corpus Christi, Assumption, Polish Armed Forces Day (August 15), All Saints' Day (Nov 1), Christmas (December 25), Boxing Day (December 26)
The People of Poland
Languages Spoken: Polish 97.8%, other and unspecified 2.2% (2002 census)

Nationality: Pole(s)

Religions: Roman Catholic 89.8% (about 75% practicing), Eastern Orthodox 1.3%, Protestant 0.3%, other 0.3%, unspecified 8.3% (2002)

Origin of the name Poland: The name "Poland" comes from an early West Slavic tribe called the Polans or Polanie. The people in the region then became known as the Poles over the course of time.

Famous People:
Gunter Blobel - Nobel Prize winning biologist
Wernher von Braun - Early rocket scientist
Catherine the Great - Russian Tsar born in today's Poland
Frederic Chopin - Classical music composer
Nicolas Copernicus - Astronomer who placed the Sun at the center of the universe
Marie Curie - Scientist known for her work with radiation
Joanna Krupa - Model
Robert Lewandowski - Soccer player
Pope John Paul II - Religious leader of the Catholic Church
Lukas Podolski - Soccer player
Arthur Rubinstein - Pianist
Lech Walesa - Leader of the Polish Solidarity movement
Yitzhak Zuckerman - Leader of the Warsaw Ghetto Uprising in WWII


Geography >> Europe >> Poland History and Timeline


** Source for population (2019 est.) is United Nations. GDP (2011 est.) is CIA World Factbook.