Music for Kids

Famous Violin Players
There have been many wonderful and famous violinists throughout history. Here are just a few of them. Perhaps the most famous or greatest violinist is Niccolo Paganini.

Arcangelo Corelli (1653-1713) - Corelli is most known for first implementing many of the finer playing techniques still used by violinists today. These include posture, how to use the bow, and fingering. He was a great performer and composer during his time as well. A fun fact about Arcangelo Corelli is that he didn't like to play high notes as he thought they sounded bad and screeching.

Antonio Vivaldi (1678 - 1741) - Vivaldi is considered one of the great Baroque composers as well as virtuoso violinist. He is most famous for using music to create images in four compositions called the four seasons. In these compositions he uses music and the violin to create the sounds of nature like birds singing, thunder and storms, dogs barking, and streams flowing. A fun fact about Vivaldi is that he was called il Prete Rosso ("The Red Priest") because of his red hair.

Niccolo Paganini (1782 - 1840) - Paganini is widely regarded as the greatest violin player ever. He was extremely skilled in playing the violin and was known to play very difficult pieces on just a single string. He wrote many great compositions as well, but his most famous was Caprice Number 24. This work, written for solo violins, has been used as the basis for many other composers over the years.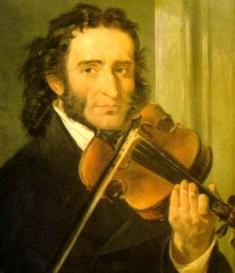 Violin player Niccolo Paganini



It was often said that Paganini must have sold his soul to the devil to play so well. Doctors even dissected his hands when he died to see what was so special about them. It turns out they were just normal hands that could play the violin better than anyone in history.

Paganini played a number of great violins crafted by the two greatest violin makers, Guarneri and Stradivari.

Pablo de Sarasate (1844 - 1908) - A Spanish violinist and composer, Sarasate is considered one of the great virtuosos of the late 1800s. His most famous work is called Zigeunerweisen. There are some recordings of Sarasate. Although the recordings are not of the greatest quality, experts are able to tell just how skilled he was in playing the violin.

Isaac Stern (1920 - 2001) - Isaac was one of the most famous violinists of the 20th century. He was known for his recordings as well as finding other great musical talent like cellist Yo-Yo Ma. He played the violin in the famous musical Fiddler on the Roof. His favorite instrument was a violin made by the famous Italian luthier Giuseppe Guarneri.

Itzhak Perlman (1945 - ) - Itzhak Perlman is often considered the greatest violinist of the 20th century. He was born in Israel in 1945 and contracted polio at the age of 4. He is still somewhat handicapped from recovering from polio and plays the violin while sitting down. He has won many Grammy Awards for his performances and plays a famous Stradivari violin.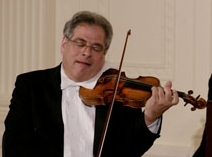 Itzhak Perlman



Sarah Chang (1980 - ) - Sarah is a Korean American violinist born in Philadelphia. She is one of the great young players of modern times. At the age of 9 she played with the New York Philharmonic and the Philadelphia Orchestra. She plays a Guarneri violin which she received from another great violinist on our list, Isaac Stern.

More on the violin: Other musical instruments:



Back to Kids Music Home Page