Music for Kids
Famous Guitarists

There have been many famous guitarists over the years. Especially in the last 60 years with the popularity of rock music and the electric guitar. Many of the most famous guitarists are rock guitarists most known for their work in a rock band and with the electric guitar.

Who the best guitarists are is really a personal opinion and taste. We will list some of the most famous and influential for each style of music, with a focus on rock music.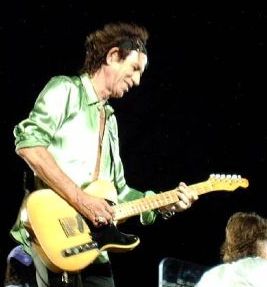 Keith Richards of the Rolling Stones Playing guitar
Author: DieBand at de.wikipedia, PD
Rock
Jimi Hendrix (1942 - 1970) - Jimi is considered by many people to be the greatest electrical guitarist ever. He was number 1 on Rolling Stones list of top 100 guitarists. Hendrix's live performances were some of the best ever. He made sounds and used feedback that was unique and many guitarists since have tried to emulate him.
Jimmy Page (1944 - ) - Jimmy Page was lead guitarist for the rock band Led Zeppelin. He wrote rock riffs on the guitar like never before and was one of the influential guitarists in the history of rock music.
Eddie Van Halen (1955 - 2020) - Eddie played the guitar with a speed and energy like no one before him. He was the power in the power rock band Van Halen. Many a kid picked up the guitar in the 1980s wanting to play like Eddie Van Halen.
Duane Allman (1946 - 1971) - Duane Allman played southern Rock in the Allman Brothers band. He was known for his improvisational and live performances.
Eric Clapton (1945 - ) - Eric took his blues style into rock and roll and has been inducted into the Rock and Roll Hall of Fame three times: once for his solo career and for his membership in the bands Cream and the Yardbirds.
Keith Richards - (1943 - ) - Lead guitarist for the Rolling Stones, Keith Richard's song and guitar riffs have had a huge influence over rock and pop music for the last 50 years.

Jimi Hendrix
Author: Unknown
Blues
Stevie Ray Vaughn (1954 - 1990) - A great blues and rock guitarist who could put on an amazing live performance.
B.B. King (1925 - 2015) - B.B. King was ranked #3 on Rolling Stones all time great guitarists, the highest of all the blues players. He introduced the electric guitar solo which many after him copied.
Robert Johnson (1911 - 1938) - Perhaps the first great blues guitarist, Johnson's early work had a great influence on blue and later rock n' roll.
Country
Chet Atkins (1924 - 2001) - Chet Atkins guitar picking style had great influence over many country musicians. He created a country music style call the Nashville Sound.
Brad Paisley (1972 - ) - Brad plays a style that mixes country with southern rock. He is one of the best guitarists in country music today.
Jerry Reed (1937 - 2008) - Jerry was an influential country guitarist. He wrote the song Guitar Man.
Keith Urban (1967 - ) - Keith is one of today's best country music performers.
Fun Facts about Famous Guitarists
Some of the world's greatest guitarists have been left handed including Jimi Hendrix, Paul McCartney, and Kurt Cobain.
The tombstone of Jimi Hendrix has a Fender Stratocaster carved on it.
Duane Allman's nickname was Skydog.
Keith Urban is married to movie star Nichole Kidman.
Keith Richards was in two of the Pirate's of the Caribbean movies. Johnny Depp said he modeled the character of Jack Sparrow after Keith Richards.
Brian May, lead guitarist for the rock band Queen, has a PHD in astrophysics.
More on the guitar:
Other musical instruments:
Back to Kids Music Home Page