American West
Famous Gunfighters

History >> Westward Expansion

For a period of time in the Old West, from around 1850 to 1890, the western frontier had little in the way of government law or police. Men carried guns to protect themselves. There were outlaws who stole from people and lawmen who tried to stop them. Today we call these men gunfighters or gunslingers. At the time they were called gunmen or shootists.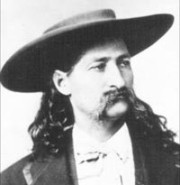 James Butler "Wild Bill" Hickok

by Unknown



Here are some of the more famous gunfighters from the Old West. Some of them were lawmen or sheriffs. Some were outlaws and murderers.

Wild Bill Hickok (1837 - 1876)

James Butler Hickok earned the nickname "Wild Bill" from his exploits in the Old West. He worked as a stagecoach driver, Union soldier, scout, and sheriff. He began his career as a gunslinger on the wrong side of the law. Twice he killed a man and was put on trial and twice he was released.

In 1869, Wild Bill was hired as the sheriff of Ellis County in Kansas. He continued to build a reputation as a gunslinger when he killed two men in gunfights within his first month on the job. He had to move on after killing some U.S. soldiers in a gunfight.

In 1871, Wild Bill became Marshal of Abilene, Kansas. Abilene was a hard and dangerous town at the time. Here he had famous encounters with outlaws John Wesley Hardin and Phil Coe. In 1876 Hickok was killed while playing poker in Deadwood, South Dakota.

Billy the Kid (1859-1881)

Billy the Kid spent much of his life in and out of jail. He escaped from jail several times. Billy was known as a killer. He participated in the Lincoln County War in New Mexico where he was accused of killing a number of men.

In 1878, the governor of New Mexico offered safety for Billy if he would surrender. However, the District Attorney turned on Billy once they had him in custody. Once again, Billy escaped from jail. Three months later, Billy was shot by a lawman while sneaking into a house at night.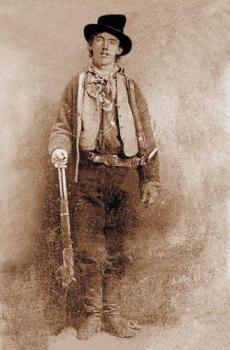 Billy the Kid

by Ben Wittick

Jesse James (1847-1882)

Jesse James was an outlaw and a bandit most famous for robbing banks and trains. Jesse's crime sprees started out as revenge. When northern soldiers showed up at his house and tortured his family for information, he wanted nothing more than to get back at them. He took up with a gang of bandits and raided northern businesses.

Jesse's gang was called the James-Younger Gang. His brother Frank was in the gang, too. In 1865 they robbed the First National Bank in Liberty, Missouri of $15,000 in what was the first bank robbery in the United States. They continued to rob more banks and then began to rob trains.

The gang became nationally famous. They all had a high price on their heads. In Northfield, Minnesota the gang was cornered and all of them were caught or killed except Frank and Jesse. Jesse wanted to keep robbing banks. So he planned another robbery with the help of his cousins Bob and Charlie Ford. Bob Ford only wanted the reward money, however, and shot Jesse in the back of the head in his hotel room.

John Wesley Hardin (1853-1895)

John Wesley Hardin began his killing spree at the young age of fifteen when he shot a black boy named Mage during an argument. He then shot and killed two soldiers who chased after him. Over the next several years, Hardin killed at least thirty people. He was a notorious outlaw wanted throughout the west. One time he even killed a man just for snoring.

In 1877 Hardin was arrested by the Texas Rangers. He served fifteen years of his twenty-five year sentence. After getting out of prison, Hardin stopped his killing ways. However, he himself was shot dead while playing dice in a saloon in 1895.

Wyatt Earp (1848-1929)

Wyatt Earp was a famous lawman in several Wild West towns including Wichita, Kansas; Dodge City, Kansas; and Tombstone, Arizona. He earned the reputation as one of the toughest and deadliest gunslingers of the Old West.

Earp was most famous for his showdown with an outlaw gang in Tombstone. In this famous shootout, Wyatt Earp, together with his brothers Virgil and Morgan as well as famous gunslinger "Doc" Holliday, took on the McLaury and Clanton brothers. During the fight, both the McLaury brothers and Billy Clanton were killed. Wyatt wasn't even wounded. The shootout is called the "Gunfight at the O.K. Corral" today.

The Wild Bunch

The Wild Bunch was a gang of horse thieves and bank robbers. The gang included such famous gunfighters as Butch Cassidy, Harry "Sundance Kid", and Kid Curry. One time they stole $65,000 from a train, however, the bills were unsigned by the bank and worthless. Another time they took a picture of themselves after a bank robbery. They then sent the picture to the bank with a thank you note for the money they stole!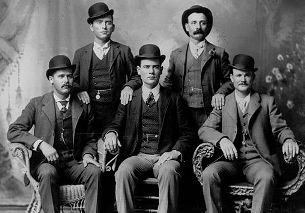 Butch Cassidy and the Wild-Bunch
(Sundance Kid sitting on the left and Butch Cassidy sitting on the right)
by Unknown
Interesting Facts about Famous Gunfighters of the Old West
Wild Bill Hickok was holding a poker hand with a pair of aces and a pair of eights when he was killed. This hand has since been known as a "dead man's hand".
Outlaw and murderer John Wesley Hardin was the son of a preacher and named after church leader John Wesley.
Jesse James' nickname was "Dingus".
Despite all the gunfights Wyatt Earp was in, he was never once shot.
The most famous female gunfighter is probably Belle Starr who was part of the James-Younger gang with Jesse James for a while.
The famous Gunfight at the O.K. Corral likely only lasted around 30 seconds.


Works Cited



History >> Westward Expansion