Renaissance
Clothing
History >> Renaissance for Kids

Fashion and clothing was an important part of Renaissance life. This was especially true for the wealthy who used fashion to display their wealth and success. A wealthy person would have a variety of clothes made from fine materials, furs, and silks. A peasant, on the other hand, typically had only 1 or 2 sets of clothing.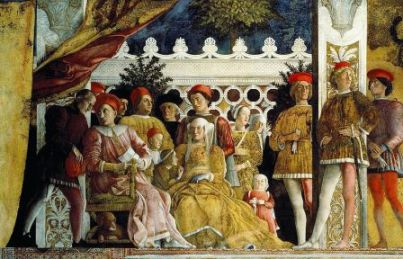 The Gonzaga family

by Andrea Mantegna


What did the men wear?

Men wore colorful tights or stockings with a shirt and coat. The coat was generally tight fitting and was called a doublet. They often wore hats as well.

What did the women wear?

Women wore long dresses that generally had high waists and puffy sleeves and shoulders. Wealthy women would have elaborate jewelry made of gold and ornamented with expensive jewels such as pearls and sapphires. Sometimes the embroidery on their dresses used gold and silver thread.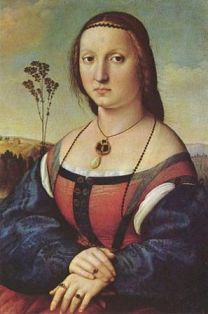 Portrait of a Renaissance woman

Raffael

by Raphael


What about hair styles?

Hair styles changed throughout the Renaissance. For men, long and short hair went in and out of style. The same was true of beards. At times, short cut hair with pointy beards was popular, while at other times long hair with a clean shaven face was popular.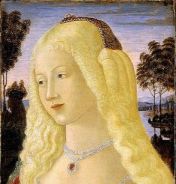 Portrait of a Lady

by Neroccio de' Landi

Blonde hair was very popular



Blonde hair was considered especially stylish with the women. They would often bleach their hair to make it blonde. Wigs or fake locks of hair made of yellow or white silk was also popular.

Were there any rules about clothes?

Depending on where you lived, there were all sorts of laws and rules about clothing. Laws were often passed to try and keep the "lower" classes from wearing fancy clothes. In some areas only nobles were allowed to wear fur.

In England they had a very long list of laws, called sumptuary laws, that specified who could wear what types of clothes. Depending on your station in life, you could only wear clothes of certain colors and materials.

Interesting facts about Renaissance Fashion
People were not very clean during these times. They rarely bathed and may only wash their clothes a couple of times a year.
Jewish people were often forced to wear certain clothing to identify them as Jewish. In Venice, Jewish men had to wear a yellow circle on their shoulder and the women a yellow scarf.
A white complexion was desirable for women. As a result they often wore hats or veils to keep from getting tan from the sun.
Activities

Take a ten question quiz about this page.


Listen to a recorded reading of this page:


Learn more about the Renaissance:
Works Cited
Back to Renaissance for Kids
Back to History for Kids