Biography
Mary Todd Lincoln
Biography for Kids >> Civil War


Occupation: First Lady
Born: December 13, 1818 in Lexington, Kentucky
Died: July 16, 1882 in Springfield, Illinois
Best known for: Wife and First Lady to President Abraham Lincoln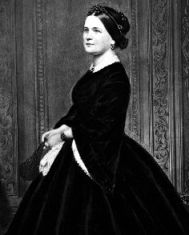 Mary Todd Lincoln

by Brady-Handy

Biography:

Where did Mary Todd Lincoln grow up?

Mary Todd Lincoln was born in Lexington, Kentucky on December 13, 1818. She grew up in a big house with lots of brothers and sisters. Mary attended Madame Mentelle's school for girls where she learned to speak French and how to dance. As she grew older, Mary became interested in politics. Her father was a state senator and the family often discussed politics and the government.

Meeting Abraham Lincoln

In 1839, Mary went to stay with her sister in Springfield, Illinois. There she met a tall young man named Abraham Lincoln. She really liked Abraham. He was smart and liked to talk about politics. Some of Mary's relatives didn't want her to marry Abraham because he was so poor, but Mary didn't listen to them. She loved Abraham and only cared that he was a good man. On November 4, 1842 she married Abraham and became Mrs. Lincoln.

Moving to Washington

Mary believed in her heart that Abraham would be a great man someday. She supported his political career and it soon began to take off. Abraham became known for his stance against slavery. He participated in many debates and speeches against slavery.

In 1847, Abraham was elected to Congress as a member of the House of Representatives. Mary moved to Washington D.C. for a time to be with Abraham and help him with his career.

Becoming the First Lady

When Abraham's term as a congressman ended, Mary and the family returned to Springfield. There Mary took care of the house while Abe worked as a lawyer. Things became very busy for Mary in 1860 while her husband was running for president. She helped him with his campaign and often spoke strongly to reporters about issues.

On November 6, 1860, Abraham was elected president. Mary was now the First Lady of the United States. The family moved into the White House. She was surprised to find that the White House was dirty and in disrepair. Mary decided to take on the job of fixing up the White House.

The Civil War

Mary's time at the White House wasn't all fun and games. Her husband's strong position on slavery caused many Southern states to secede from the United States and start their own country called the Confederacy. Soon the North was fighting the South in the Civil War.

The Civil War continued for several years. Rather than move to somewhere safe, Mary decided to stay by her husband's side. She visited troops with her husband, gave him advice, and even worked as a volunteer nurse.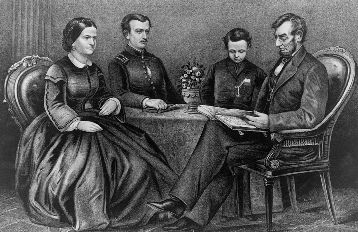 The Lincoln Family

by Currier & Ives

A Divided Family

Mary's home state of Kentucky was a border state. Although the state remained loyal to the Union, many people in Kentucky supported the South. Three of Mary's brothers actually joined the Confederate Army and fought for the South. Two of them were killed in battle. Even though Mary supported the North, she was deeply saddened at the loss of her brothers.

Abraham is Killed

In the Spring of 1865 the Civil War finally came to an end. Mary was looking forward to being the First Lady during a time of peace. On April 14, 1865, Mary and Abe went to the theatre to enjoy a play and celebrate. Unfortunately, her husband was shot by an assassin and died the next day.

Later Life and Death

After her husband was killed Mary was never the same. She had also suffered the death of a child earlier and was grief stricken. At one point she was even admitted to an insane asylum, but was later released.

Mary died on July 16, 1882 at her sister's home in Springfield, Illinois. She was buried alongside Abe at Lincoln Tomb.

Interesting Facts about Mary Todd Lincoln
Mary called her husband "Mr. Lincoln" and he called her "Molly."
She often suffered from headaches and mood swings.
She got into trouble for spending too much money on redecorating the White House.
Mary and Abe had four sons including Robert, Edward, William, and Thomas ("Tad").
Mary was over a foot shorter than Abe. She was 5'2" and he was 6'4".
Activities

Take a ten question quiz about this page.


Listen to a recorded reading of this page:


| | |
| --- | --- |
| Overview Major Events Civil War Life | People Battles |
Works Cited

Biography >> Civil War